E and the boys are off from school this week, so I joined them for a day up on the mountain yesterday.  Heading up to ski was pretty much a no brainer – it looked to be almost a carbon copy of Saturday, with another foot or so of upslope Champlain Powder™ overnight to finish off another three-foot storm cycle, and the clouds pulling away to leave blue skies and perfect temperatures.  Bolton Valley had just finished off a run featuring six feet of snow in six days, which doesn't happen all that often… anywhere.
We hit up many of our usual haunts in the Timberline area, but also got in a few runs in the Adam's Solitude/Wild Woods out of bounds areas, which we'd yet to visit this season.  I don't visit those areas all that often, but I was absolutely floored by how protected the accumulated snow was over there.  Amazingly delicate accumulations of Northern Vermont's famed upslope snow had settled on everything, apparently defying gravity by even accumulating laterally and growing off the sides of trees.  All it seemed to take was the slightest imperfection on a surface to catch a few crystals, and then they would apparently grab hands and just go nuts.  I'm not sure if the area is always protected like that, but I'll sure be on the lookout with future storms.  My final overnight accumulation of snow down at the house for that event had come in at 2.4% H2O, which is not all that uncommon for upslope snow in our sheltered valley location, but there really were areas up near the top of Adam's Solitude where the snow was like air.  I'd be skiing along through the usual bottomless powder and I'd hit pockets where it would feel like the bottom had literally dropped out because the snow became so airy.  It almost felt like I was hitting small tree wells, but it was just the settling pattern of the powder.  Anyway, it was quite an experience.  I've skied a lot of cold smoke snow between Vermont and our years out in Montana, and yesterday snow now sets the standard.  I can remember a day at Smugg's several years back that featured snow as airy as yesterday's, but it was only about 6 to 12 inches deep and not bottomless, so the experience wasn't quite the same.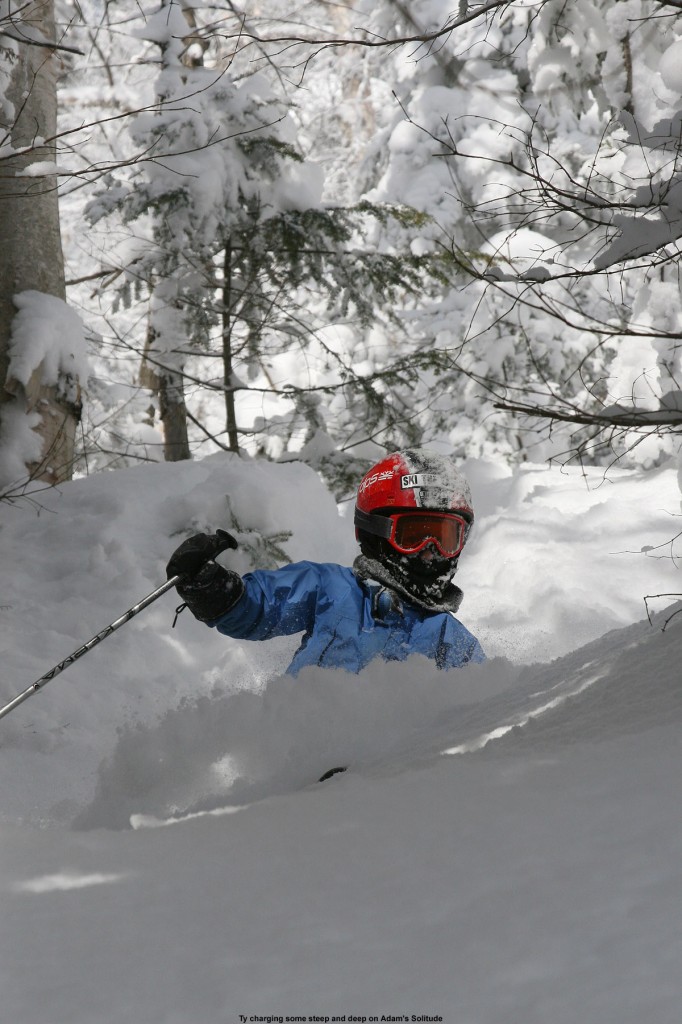 I wanted to bring E and the boys over to explore some areas on the main mountain, but the day at Timberline was so packed full of runs that we just never had the chance to get over there.  We did manage to meet up with Stephen and his kids for a final run down Adam's Solitude.  It was a first time out there for them, so it was quite an introduction to that terrain.  I worked a bit with Ty and E on getting their body positioning more compact when they are in the air.  They've still got some work to do, but it was one of those days where you didn't mind having to try, try again on those kinds of tasks.  The rest of the images from yesterday can be found below in the gallery, and full size versions are also available in our report to SkiVT-L.