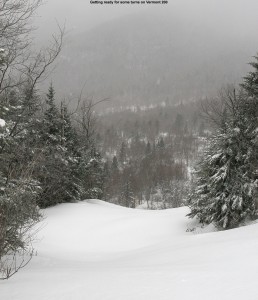 By the time I'd left the house (495') at 7:30 A.M. this morning, we'd picked up 0.6 additional inches of snow since the 6:00 A.M. snowboard clearing, bringing the event total to 4.1 inches.  It had been snowing lightly at the house when I left, but when I arrived up at the Bolton Valley Village area (2,100') it was snowing moderately and still accumulating.  The mountain had reported 7 inches of new snow as of their 6:45 A.M. update, but I suspected I'd find a bit more based on the way it was coming down.  The lifts weren't going to start loading until 9:00 A.M., so I kicked off the morning off by skinning for some turns, taking the route straight up Beech Seal.  I first checked the consistency of the snow near the base area; I couldn't quite make a snowball out of it in my hand, so I guess I'd describe it as medium weight powder.  Beech Seal had been groomed at some point earlier, but I found about 2 to 4 inches of additional new snow on top of the groomed base.
"…today Spillway
offered up some
gorgeous steep
powder."
When I reached mid mountain (2,500') I checked the depth of the powder in an undisturbed location and it came in right at 12 inches.  That should represent the combination of powder from last week's midweek system (~6 inches) as well as whatever had come down up to that point with this new event, so that seemed reasonable.  Wind doesn't appear to have been much a factor with this system, so getting measurements was easy.  I was thinking of skinning up in the Cobrass area, but there was enough powder to keep me following one of the snowmobile tracks for my ascent.  At about 9:00 A.M. I'd reached the top of Vermont 200 (~3,000'), and when I checked the depth of the new snow there I found that it was at 9 inches.
"It was really nice
to see all the visitors
getting rewarded with
such a splendid day
on the slopes."
I enjoyed first tracks down Vermont 200, and this new round of snow had settled in nicely.  The medium-density powder was just what the doctor had ordered in terms of getting the windswept steeps back into shape.  I was on my Telemark skis, and found that the consistency of the snow made for really easy turns.  After my initial descent I stayed around for some rides on the lift, and unquestionably the trail pick of the day for me was Spillway.  Usually I avoid it like the plague between its man-made snow, exposure to the wind, and traffic, but today Spillway offered up some gorgeous steep powder.  The fact that it has seen grooming in the past made the subsurface the most consistent and provided lots of nice bottomless turns, and since there didn't appear to be much wind with this event, there were no issues on that front.  I had to hit it twice because it was so good, and I'd say it was better than even Hard Luck or Vermont 200.  The Wilderness Lift opened right around 10:00 A.M., and I was fortunate to catch one of the first few chairs.  The way the steeper trails had been skiing so nicely, I opted for Bolton Outlaw from the Wilderness Summit, and it was in great shape.  After that descent I traversed back toward the main mountain.  I followed a random set of tracks off New Sherman's Pass and found a nice region of glades that I'd never explored before.
The mountain definitely had more than its usual midweek handful of people this morning.  A lot of the extra folks I saw were children, and I think some of the schools in the Northeast have vacation right now because I heard what sounded like a Boston-style accent on a couple of occasions.  It was really nice to see all the visitors getting rewarded with such a splendid day on the slopes.
The moderate snowfall had gradually tapered off through the morning, and when I left the mountain around 10:40 A.M. there was just light snow and the temperature at my car (~2,100') was 34 F.   The temperature stayed fairly stable through most of the descent down the Bolton Valley Access Road, but at the bottom (340') it was up to 35 F.  The precipitation was light snow as I drove westward through the Winooski Valley to the center of Richmond.  The temperature there was up to 36 F however, and I was surprised to see that Richmond appeared to have picked up little if any snow from this event.  When I'd reached the I-89 rest area in Williston, the temperature was up to 37 F and the precipitation was over to rain, which was coming down at moderate intensity for a while.  In the South Burlington area the temperature was up to 38 F, and when I finally arrived at the UVM campus it had hit 39 F.
Bolton Valley was officially reporting 8 inches from this event as of their 10:05 A.M. update, so I don't think we'll have any trouble getting into Scott's 10-20" inch prediction range with some upslope.  It sounds like this is one of the best upslope setups we've seen this season, so it should be fun to see how it plays out for the mountains and even the mountain valleys over the next couple of days.  It's expected to start up tonight so I'll certainly report on whatever makes it down to our elevation in Waterbury.  Images from today can be found in the gallery below, and full size versions are also available in the report to SkiVT-L from today.