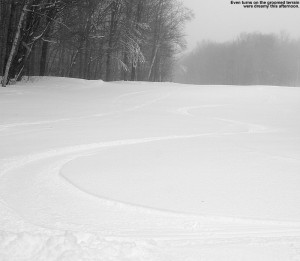 It turns out that Northern Vermont wasn't really the jackpot for this Nor'easter, but we did get into some of the snowfall.  As of 6:00 A.M. this morning we'd picked up 1.1 inches of snow down at the house that came in at a fairly synoptic storm-style 9.1% H2O, and up above us at Bolton Valley they reported 3 inches of new snow in the higher elevations.  Even down in the valley it continued to snow however, and the flake size increased as we moved farther into the storm.  By noon we'd picked up another inch of snow, and the density was down to 5.0% H2O.
Temperatures in the low double digits F and plenty of wind outside didn't have me jumping out the door to hit the hill, but with the way it continued to snow at the house, I figured it had to be doing even better in the higher elevations.  Bolton was reporting that everything but their surface lift was on wind hold, but I decided to head up to Timberline to make some turns.  I'd missed the chance to check it out on Sunday when it was planned to open, so this would be a good chance to see how it was skiing.
I arrived up the Timberline base (1,500') to a temperature of 9 F, and decent winds in probably the 20 to 30 MPH range.  There were a couple of other cars in the upper lot that belonged to folks doing the same thing I was, but the whole scene was one of a desolate winter storm.  Another fellow had headed up just a few minutes before me, so I followed his skin track… or at least I think I did because even in that short time it was starting to disappear in places due to the wind and falling snow.  I ascended the usual Twice as Nice route, and was surprised at how nice the snow was.  I was wondering if everything was going to be scoured down to something hard, but that wasn't the case – there's a really good base of natural snow, and an even in spots where the new snow had been blown away, the underlying surface was either packed powder or some sort of Styrofoam material.  In actuality though, it was only isolated spots that were even down to that surface, most of the new powder was still there.  Since the wind was from the north instead of the west, that was probably a better setup for the generally west-facing Timberline terrain.  I checked the depth on my ascent and generally found between 3 and 7 inches of new snow, so the mountain had definitely picked up more snow since their morning report.