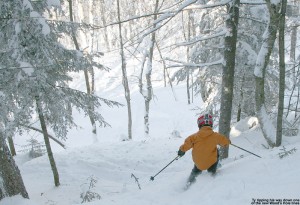 After finding excellent snow conditions at Timberline near the end of the Nor'easter yesterday afternoon, it looked like lift-served skiing was going to be fantastic on today.  E was a little under the weather and wanted to get some things done around the house, so it was going to be a ski day for the boys.
We got up to Timberline around 10:15 A.M., and conditions were looking good.  The temperature was 20 F, skies were clear, and the wind had abated.  The Bolton Valley website had indicated a planned Timberline opening of sometime in the 9:00 A.M. – 10:00 A.M. range, and I'm not sure what time they'd finally started loading, but there was hardly anyone there when we arrived.  After experiencing lift queues at Vista on Thursday and Friday, it was very nice to have Timberline open again.
We kicked things off with a run down Spell Binder to get the boys warmed up, and Ty was really enamored with the snow and pitch on the headwall.  He's definitely been waiting for the season to get going so additional steeper terrain could open, and he was really hootin' and hollerin' on that run and exclaiming how "awesome" it was.  It wasn't untracked, but as usual the skier's right held lots of chowder, with plenty of deep loose snow and a really nice subsurface.  Both boys had fun making their sloughs, or "avalanches" as they call them, slide down the slope.  Below the headwall, there was still ample fresh snow along the skier's right to provide lots of powder turns.  I generally found 12-18 inches of powder along there depending on how far I got towards the trees, and although it wasn't Champlain Powder™, it was at least medium weight fluff protected from the wind and it skied really well.  While I worked the powder, the boys were generally in and out of there often playing in the chowder and taking lots of jumps off the remnants of the water bars.  To see all the pictures and read the rest of the story, click through to the report from Bolton Valley today.