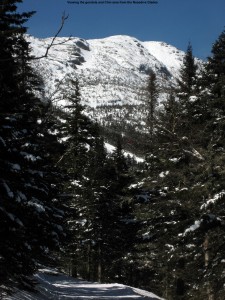 It was ski program day at Stowe today, and since Johannes and Helena are done with their programs at Bolton, Stephen and the kids tagged along with our group.  I had to drop off Ty at the Stowe Shaw's to be picked up for a birthday party, but I eventually caught up with Claire, Stephen, and all the kids just as they were heading up the gondola for their first Mansfield run.
Off piste conditions were fantastic, since the upslope pattern was delivering well and Stowe had seen a foot and a half of snow since the Monday event.  I added some of the totals into my update at Americanwx.com, and it showed quite the north to south trend with Jay Peak cashing in nicely:
Jay Peak: 30" (359")  Stowe: 18" (311")  Bolton Valley: 14" (316")  Killington: 4" (251")
In one of our traverses we stumbled onto a gully in the Lower Goat woods that everyone skied – it had some really steep walls and reminded me of one of those Jackson Hole gullies.  To see the full text and pictures, head to the Stowe trip report from today.