We were away on Christmas Eve, but when we returned to the house yesterday morning, it was snowing.  There was already 0.7 inches of new snow on the snowboard, and you could tell that the intensity was ramping up and more snow was on the way.  We were heading down to Southern New England for more holiday visiting with family, but I cleared the snowboard and set up the web cam so that that any new snowfall could be monitored from afar.  The driving was actually a bit tough through Green Mountains with the incoming snowfall, but once we got east of the Greens it tapered off.
Even though the storm was just an Alberta Clipper, the upslope snow potential of the Northern Green Mountains can always produce more, and I knew we were taking a good hit of snow when I checked my web cam yesterday evening and saw that my four-inch measuring boards were basically buried.  I had to rely on my 12-inch measuring board to get the snowfall measurements off the web cam.  Powderfreak was the best source of updates for the storm though, and he kept them rolling all night while the Stowe area got blitzed with snow.  He put up some awesome pictures of skiers and tracks in the fresh powder at Stowe Mountain Resort yesterday in the Northern New England thread at American Weather.
By the time the event wound down this morning, we'd picked up 5.1 inches at the house and the local mountains had accumulated about a foot.  For the areas that have reported in so far, I've got the north to south list of event totals (48-hour snow totals) at Vermont ski areas below.  The Smugg's to Bolton stretch along the spine looks to have done nicely with this one, with Mt. Mansfield right in the sweet spot:
Jay Peak: 6"
Burke: 4"
Smuggler's Notch: 10"
Stowe: 14"
Bolton Valley: 10"
Mad River Glen: 7"
Sugarbush: 4"
Pico: 1"
Killington: 1"
Bromley: 1"
Stratton: 0"
Mount Snow: 1"
The final snow totals for the area shown below in the map from the national weather service with the sweet spot being where that fuchsia color is located around Stowe: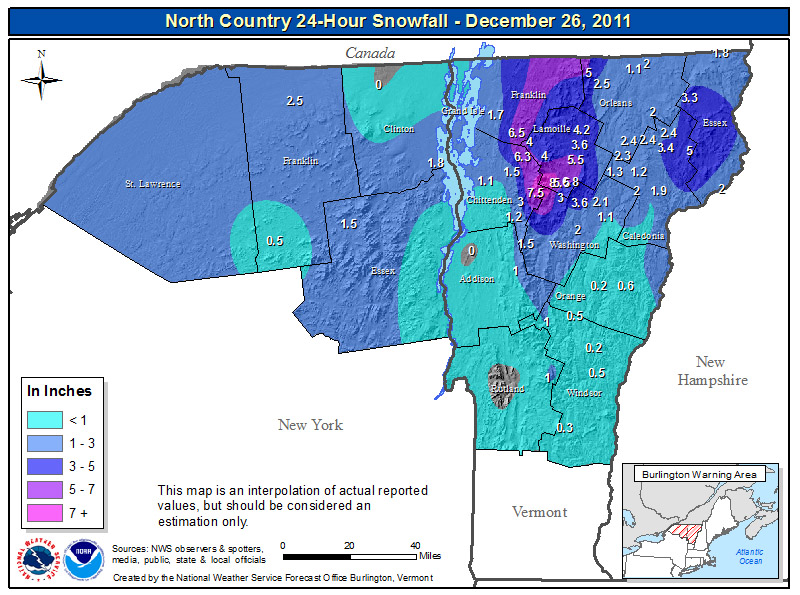 For the full details on this storm, head to the detailed report at the winter weather section of our website.