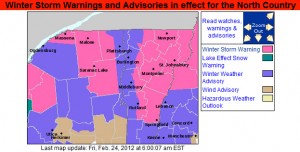 With our recent return to wintrier weather, three storms have been in the forecast, and thus far each one has been topping the previous one in terms of mountain snowfall.  The first one came through Tuesday night into yesterday, and dropped 1.7" of snow here at the house and a few inches in the mountains.  The second system started up yesterday, and while we picked up 0.5″ at our house in the valley, it was definitely a step up in accumulation for the northern mountains.  With the addition of this second storm, two-day snow totals are just shy of the 1 foot mark at some of the Northern resorts like Jay Peak and Smuggler's Notch, with totals tapering to the 5 to 8-inch range in the Sugarbush through Stowe stretch of the spine.  I caught some turns yesterday at Bolton and the skiing was already excellent.  The third storm in this triumvirate is expected to start today, and depending on how it plays out with the mountain upslope snow, another 1 to 2 feet could be added in the mountains on top of what was already received from the first two storms.  Winter Storm Warnings are up for many areas, and this morning's Storm Total Snowfall Map from the National Weather Service Office in Burlington is added below.  In any event, with the moderate density snow already down from the first two systems, whatever this storm delivers, the potential is there for a great weekend on the slopes.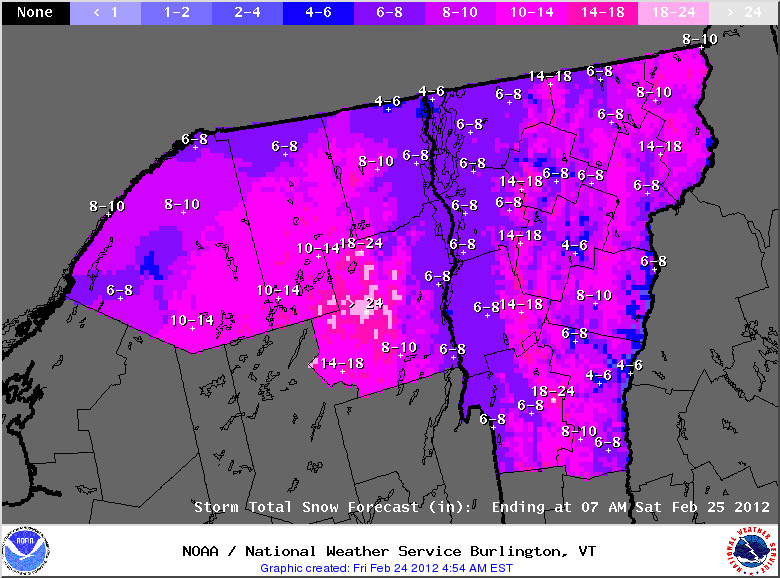 Snow totals from this storm were quite impressive.  I've put together the north to south snowfall totals I've seen from the Vermont ski areas for this storm (list 1) and the sum of all three storms we've had since midweek (list 2).
Storm 3
Jay Peak: 40"
Smuggler's Notch: 36"
Stowe: 36"
Bolton Valley: 24"
Mad River Glen: 20"
Sugarbush: 23"
Pico: 15"
Killington: 15"
Okemo: 6"
Bromley: 6"
Magic Mountain: 6"
Stratton: 8"
Mount Snow: 3"
Storms 1, 2 & 3 Combined
Jay Peak: 51"
Smuggler's Notch: 46"
Stowe: 44"
Bolton Valley: 29"
Mad River Glen: 26"
Sugarbush: 28"
Pico: 17"
Killington: 17"
Okemo: 8"
Bromley: 8"
Magic Mountain: 10"
Stratton: 9"
Mount Snow: 5"
As is often the case, there's a very clear north to south gradient for snowfall, this time with the northern resorts measuring in feet, while the southern resorts are measuring in inches.  This was a great enhancement to the snow depths in the northern and central resorts, and it looks like roughly 2 inches of liquid went into the snowpack on Mansfield.  You know it's a decent storm cycle period when the depth of snowpack at the stake goes from a below average 49 inches on Wednesday, to an above average 81 inches as of today.
For more full details on this storm, head to the detailed report at the winter weather section of our website.