Since midweek, a moderate winter storm has been affecting the state of Vermont.  Snow began to fall Wednesday evening and accumulated slowly through to this morning, at which point we'd received 4.8 inches of snow at the house.  The ski resorts in the northern half of the state picked up a general 9 to 10 inches from the storm, with the Southern Vermont Resorts faring a bit better and topping out with accumulations around a foot and a half.
I went in to work to take care of some things in the morning, then met up with E and the boys back at the house and we headed off to Stowe.  Although only a Friday, the resort was certainly hopping with visitors today; the main Spruce Peak lots were pretty full, so we ended up parking a bit farther down at the Spruce Peak Performing Arts Center.  By happenstance, we parked right next to Marlene, who like me had done some work in the morning and was coming to the resort for some afternoon turns with the family.  Jeff and the kids had been out on the slopes early, and we were all hoping to get together for some fun runs in the new snow.  Although it's a bit farther away from the Spruce Camp Base Lodge, parking out where we did is a nice option, since the route to the lodge is fairly flat and takes you on easy, paved walkways past the Performing Arts Center itself and the various wings of the Stowe Mountain Lodge.
After getting everyone into their ski gear and gathering outside the lodge, we split up into two parties.  Marlene, Liana, and Isabella stuck around on Spruce Peak, and the rest of us headed over to Mt. Mansfield.  After Sunday's successful visit to the Chin Clip Streambed, we were eager to get back in there again.  Being a veteran of many snowboard-bumming seasons at Stowe, Jeff is quite familiar with the streambed, but Kenny had never skied it before, and he was going to be the big question mark.  Kenny only started skiing last season, and advanced intermediate runs (or as E describes them, "intermediate runs with an edge") are really the terrain in his wheelhouse.  Skiing powder isn't an issue for him; he just skis it like he skis groomed snow, so he's probably going to be another one of those kids like Ty and Dylan that never spends a lot of time "learning" to ski powder, they just ski it.  So with his ability to handle unconsolidated snow, and his impressive natural athletic ability, we figured he'd be able to rise to today's challenge.  The streambed is easily handled by an intermediate in some areas, which are wide and of modest pitch, but the 5 to 10 foot waterfalls and steep, narrow sections really elevate it to the level of an expert run.  It was also going to be E's first time ever in the streambed, and since she was on her Telemark gear, it wasn't a given that she'd just be able to stroll her way down through the terrain.  We were about to find out how both Kenny and E handled the challenge.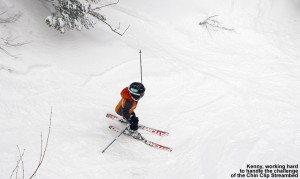 One thing that everyone had going for them was the quality of the snow; it's been fantastic since last weekend's big storm, and we generally found the trails loaded with plenty of soft, medium weight snow that had been packed from skier traffic.  Upper Gondolier had some scoured areas, but those faded once we got down out of the exposed upper section, and then it was quickly into the bumps of Switchback and Chin Clip.  E worked on her Telemark turns in the steep bumps, and semi-jokingly lamented that fact that her legs were already cooked by the time we'd reached the entrance to the streambed.  We all gave Kenny some encouragement that he'd be able to handle it, and then dove in.  After the steep entrance, we were into some of the intermediate-style terrain, but it wasn't too long before we began to run into frozen waterfalls and steep, half pipe-style environments.  Ty and Dylan were having a blast as usual on the steep walls of the streambed, finding powder pockets and jumps that provided lots of fun.  There was so much snow that I was even able to slip down through the big roped off cliff area, which was steep, but well covered and quite skiable.  Kenny took his time throughout the whole descent, and really did a nice job negotiating some of the waterfall drops.  The Chin Clip Streambed is relentless though, and since Kenny had to work so hard, we could see him tiring on the bottom half of the run.  E had to work hard on her Telemark skis as well, but years and years of experience on skis allowed her to descend efficiently and conserve energy when needed.  She did a great job of coaching Kenny down through the last steep drop where the terrain fans out away from the streambed into steep trees.  Kenny was just about tapped out at that point, but he made it – his first run down the famous Chin Clip Streambed.
We stayed at the gondola for a couple more runs, hitting Perry Merrill and working in a run down through the Tombo Waterfall.  Ty, Dylan, and I joined Jeff for the waterfall run, while the others looped around on Upper Perry Merrill to watch.  Coverage was great, and it's getting to the point where enough snow has sloughed down the chute that the waterfall is getting smaller.  Ty sliced and diced the whole chute and waterfall jump with ease; Dylan struggled a bit and opted to take the cut around the skier's left of the waterfall, but he had some nice turns in there.  Ty's got a couple years of skiing experience on Dylan of course, but when Dylan is on, he's pretty fearless, so it's going to be fun to work on that line with him in the future.
For the last part of the day, we were back over at Spruce, where we met up with the girls for some big runs as a group.  We took the traditional Sunny Spruce to Side Street route to get us over to the Sensation Quad, and it was fun having everyone together.  From the summit, most of us took Whirlaway, although Liana took it a bit easier and E brought her down Sterling.  That was probably a good idea, because everyone was pretty cooked by that point.  Even though we'd only been out for the afternoon, long Telemark runs with Stowe's high speed lifts definitely work me, and E said that she was feeling it.  She headed in with most of the kids, but it was too hard to pull away from all the great snow, so I ended up staying out with Jeff and Liana for another run down Main Street.  My legs were quite cooked after that one, but it was very satisfying.
Not surprisingly, everyone was famished from a fun day of battling Stowe's terrain, so we all headed to Piecasso for dinner.  Things can get pretty crazy having all five kids together, but they were pretty well behaved and did a decent job of replenishing their fuel reserves with pizza, salad, and even some calamari.  It does look like we're going to need plenty of energy in our legs though, since there's more snow on the way and we've still got the rest of the weekend to ski.  The next storm is already on our doorstep (flakes were flying here as of ~10:15 P.M. or so), and Winter Weather Advisories are up for most of the state.  Snow possibilities will be around through the rest of the weekend, so we'll be on the lookout for more fresh turns.