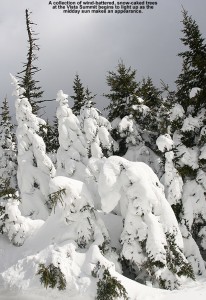 Our past couple of ski sessions have been at Stowe, but today I was back at Bolton Valley to make some turns and catch up on conditions.  After our midweek storm that dropped a general 9 to 10 inches of snow in the local mountains, we had another small storm that began last night that delivered less than an inch at the house, with a general 1 to 3 inches at elevation.  E and the boys weren't heading to the mountain with me today, but I knew Stephen and his kids would probably be there, so I'd be able to catch up with them.  Checking the snow report, I found out that the Wilderness, Timberline, and Snowflake Lifts were all on wind hold for some reason, so I packed my skins and some water in my fanny pack in case I wanted to take advantage of that setup to earn some fresh tracks.  There has been the threat of mixed precipitation with this storm, but thus far it's been pretty minimal and not an issue for ski surfaces.  The big weather question for the day involved temperatures, since even some of the mountain elevations were expected to go above freezing, and if it got warm enough it could turn the recent powder to mush.
I headed up to the mountain around 9:30 A.M., at which point the temperature was mid 30s F in the valley (300' – 500') and up at the Village (~2,100') it was right around the freezing mark.  It was spitting a little mixed precipitation when I arrived, but consistent with what had happened with the storm overnight, there wasn't really much of significance that would appear to affect the snow surfaces.  For the most part we were in the dry slot of the storm by this morning, so good or bad, it didn't look like we were going to get much more precipitation.
As I arrived at the base, I saw Stephen, Helena and Thomas going up on the Vista Quad, so I called Stephen on the phone and met them at top.  I convinced everyone that we should check out Hard Luck, and indeed it was well worth a visit; off to the skier's left in the untracked areas we found about a foot of moderately dense powder, which skied so beautifully that you didn't want it to end.  Generally cloudy skies and temperatures below freezing were keeping the snow dry, and the logical choice was to enjoy it as long as possible, because we knew that quality could easily head south if the sun came out.  We cut over to Show Off near the bottom of the upper mountain, and got some nice fresh tracks in the powder there, but Helena was just not in the mood for powder, and by Mid Mountain she was fuming mad and wanted to call it a day.  She headed down on her own on groomed terrain, while I joined Stephen for a trip down Glades.  Glades had seen plenty of skier traffic and was mostly packed down, but it was a very nice surface.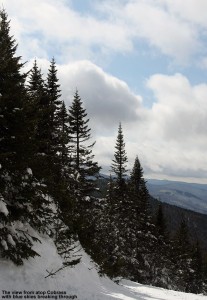 Stephen headed into the lodge to see what Helena wanted to do with the rest of her day, while I stayed out and did a couple of runs with Thomas, one of which was a combination of Alta Vista to Sherman's to Schuss, to Bull Run, to Glades.  All throughout we had great snow, but the freezing level seemed to be rising, so we didn't know how long we'd have before stickiness set in.  I checked in with Stephen, and it turned out that Helena had gotten her groove back; they had already reached the Vista Summit and were making their descent.  The sun came out and began to accelerate the warming process, but the four of us got together to ski Cobrass and the snow quality was still fine on the upper mountain.  I took a side diversion into the Cobrass Woods and the snow was excellent, even down to Mid Mountain and below; we skied the lift line right under the Vista Quad on the lower mountain and still had no complaints.  We got together for one more run down Cobrass, and I split off right at the top to get some pictures now that the sun had emerged.  I also took a solo jaunt into the Villager Trees; the snow was definitely getting sticky by that point, and it was obvious that the window had just about closed for easy off piste skiing at that elevation.
I was alone at that point, so to finish off the day I decided to skin up to the top of Wilderness to make some turns.  I descended on Alta Vista from the Vista Summit, then skinned up Upper Crossover to top of Bolton Outlaw, where I had a snack and got to watch a batch of clouds move in on the mountain.  The clouds were pushed along by strong winds, so it was quite an experience to see them come in while I was situated near the top of the Wilderness Lift.  I descended Bolton Outlaw; it was getting a bit sticky, but nothing like I'd dealt with in the lower elevations.  I continued on down to the Wilderness Lift Line, with the snow gradually getting heaver as I descended, but I had the whole area to myself and made some sweet turns.  I think the lift line had been groomed at some point, because the powder was only an inch or two deep.  It was quite smooth and fun though, as I tossed each turn's worth of snow spray off to my sides, a neat pattern was left on the trail.  All in all though, the quality of the turns had dropped a lot once the sun had emerged, so I was ready to call it a day once I got back to the base.
I called to check in with Stephen, and he was just coming down from a run, so we were able to meet up before I left.  His knee was bothering him, so he was heading into the lodge, while Thomas and Helena kept going on their own.  With the temperatures warming and the snow becoming stickier by the minute, I was definitely happy to head home to save up some energy for tomorrow's skiing at Stowe.  There's the chance for some additional snow tomorrow, so that's great news for the slopes.  And, knowing Mt. Mansfield, it may not have warmed up there quite as much as it did at Bolton today, so the quality of the skiing could be even higher.  The really impressive spring-like temperatures were in the valley today though; when I got home, it was sunny, with temperatures in the 40s F, and Kenny and the boys were having a blast with snowballs in the yard.  Spring is definitely starting to make inroads in the valley.