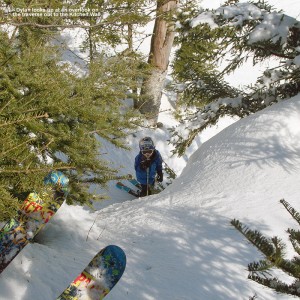 It started snowing on Friday night thanks to our most recent upper level low pressure system; it was yet another storm that was brilliantly timed to set up the slopes for the weekend, continuing a trend that seems like it's been in place for several weeks.  The Central Vermont Ski Areas were the focus for this latest storm, topping out with over a foot of fresh snow, but even the Northern Vermont Resorts reported accumulations passing a half foot.  We made turns at Bolton yesterday, finding a nice round of powder in which to play, even if the effects of previous warm temperatures could still be felt in spots.
Today we were back out at Stowe, and we were set up for a nice one with overnight lows in the 20s F to keep the powder in good shape.  We arrived at the Spruce Peak Base around 12:15 P.M., and after dropping off E and the boys it took me a couple of circuits of the parking lot to get a spot – a very nice one eventually arose right near the Stowe Mountain Lodge just a couple of rows out from the Stowe Mountain Club parking area.  So, I'd say that based on parking, the number of visitors to the resort today was ample, but pretty typical.
"I led the boys down
at mach speed, carving
huge arcs with radii
of probably 150 feet."
Temperatures were expected to climb above freezing as the day wore on, so when I got my students for today, which were just Ty, Dylan, and Luke, we headed right over to the Mt. Mansfield Gondola area to take advantage of the elevation it offered.  We were thinking of checking out the Kitchen Wall as long as the snow wasn't getting thick, but Dylan requested a warm-up run first, so we had a good trip from Cliff Trail to High Road to Switchback.  Indeed there were spots where the snow was already starting to get sticky, but the presence of sun was the key factor sending it there; staying in the shade made all the difference, and one could actually tune their skiing to be in their desired level of snow firmness depending on how deep they went into the shade.  Having assessed the snow, we did head to the Kitchen Wall for the next run, and the shaded spots were still holding winter snow, although some thick snow did have to be negotiated.  There were certainly areas of nice, untracked powder to ski in the spirit of what we found yesterday at Bolton, but for the best ride you had to be careful not to get into snow that had never been hit by the sun.  We continued on through the Nosedive Glades to Nosedive, and the on to Liftline to get to the Fourrunner Quad.  Conditions continued to be that mix of dry, winter-style and softer, spring-style snow, but as long as the soft stuff wasn't too wet, it really did make for some nice skiing because you could sink and edge into it like nobody's business.  That incredible grip was building confidence that we were ultimately going to test at high speed.
We made one quick run off the Fourrunner Quad, visiting some pretty steep terrain on National and Liftline before returning to the Gondola.  Everyone was game for a run down the moguls of Chin Clip, so we had a long run of bumps that got everyone a workout.  Back at the top of the Gondola again, we started out on Perry Merrill, and I proposed a run down the Tombo Waterfall, but Dylan said he was too tired for that.  I'm glad that he was able to tell that he was too tired for that run instead of just muddling through.  The rest of that run on Perry Merrill turned out to be quite an experience though, because it was virtually devoid of any other skiers and we turned on the afterburners.  I led the boys down at mach speed, carving huge arcs with radii of probably 150 feet.  The speed was a little intimidating at times, but the groomed snow was so good that you knew it was going to hold, and the only limits were your legs.  Back at Spruce at the end of the afternoon, the fire pit area was roiling with children and adults at the s'mores session.  Perhaps the warm weather had everyone especially exuberant to be outdoors, or maybe the food supplies were more plentiful than usual, but the place was definitely hopping.  I had time to capture a number of images of the scene, and with so many photo opportunities, that process was as much fun as eating.
On the way home, we stopped in at Harvest Market on the Mountain Road to grab something to eat.  We'd been there once before when we were in town for an event, but we decided to check it out as a potential place to get après ski food.  It's definitely got that Vermont/local foods/gourmet slant, so prices aren't going to be as low as what you'd typically find at a convenience store, but of course you're getting food of a totally different caliber.  They've got a deli counter with meats, prepared food options, etc., and what immediately grabbed our attention there was the assortment of samosas; E and I enjoyed ours immensely, and they're about as easy to eat in the car as one could want.  The boys shared a stick of local Vermont pepperoni, which they devoured in the back seat.  Space inside at Harvest Market is pretty tight; they've packed most of the items you'd expect to find in a small market into a pretty minimal footprint, and the deli section takes up roughly half that area.  I'd say the overall feel is one of combining a Vermont country store with a gourmet food shop, so naturally it fits right in at Stowe.  I'm sure it would be pricey to do a substantial amount of your weekly shopping there, but of course you're paying a premium to get items that are often locally sourced.  After our experience today though, I'm sure we'll be mixing it in as one of our options after a day on the slopes; it's a fresh alternative to throw in with restaurants and the usual convenience stores.  I hear the temperatures are warming up in the area this week, so this may be the last of the winter conditions on the slopes for a bit.  We'll see what we get when we're at the mountain next weekend, but I'd certainly say that we were able to enjoy what Mother Nature offered today.