The mountain snowpack has been building up all week due to storms running through the area, and with the snowpack at the Mt. Mansfield Stake approaching the two foot mark today, it was finally time to venture up to Bolton Valley and see how the western slopes of the Greens were skiing.  I awoke this morning to find 2.2" of new snow at our house in the Winooski Valley, and Bolton Valley reporting 4" overnight to bring their seven-day total to 19".  Although 19" of isn't an outrageous accumulation over the course of a week, these recent storms have put down plenty of dense snow, so there's been ample liquid equivalent in that snow to build the base for skiing.
"The turns were naturally really
fun, with all sorts of new ski terms
like smeary, slarvy, and drifty
dancing through my head as the
rocker in the skis did its thing."
When I left the house (495') it was a couple degrees above freezing and we were in a precipitation lull, but by the time I hit Bolton Flats a couple miles to the west, the next wave of moisture was coming in, and I was hit with a barrage of wet snow and rain.  There was no snow on the ground right at the bottom of the Bolton Valley Access Road (340'), but snowpack appeared very quickly as I began the climb – just a couple hundred feet up there was a solid inch or two of snow down on the ground.  The lowest part of the road is fairly protected, but as I got higher I could see that the winds were howling.  With the strong winds I was keen to stay somewhat low in elevation, so my goal was to start a ski tour at the Timberline Base (1,500') if the snow looked sufficient.  The temperature at that elevation was right around the freezing mark, but snow was falling with plenty of intensity – when I had my skis out on the ground while I was getting ready, they were covered with a few tenths of an inch of snow in just a few minutes.  The wind gusts were strong, certainly 20-30 MPH, and I actually had to head off into the trees a few dozen yards away when I realized that one of my glove liners had been stolen and carted off by the wind.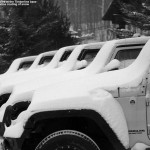 Aside from the driving school's vehicles that were lined up in front of the base lodge, I only saw one other vehicle that seemed like it might belong to a skier (not surprisingly it was a Subaru).  As I began my ascent, I didn't initially find a skin track, although I followed some fairly fresh snowshoe tracks before breaking off to set my own track up the climber's left of Twice as Nice.  Snow depths at the base ranged from as little as 5 inches, to as much as 18 inches, with the average snow depth falling somewhere in the middle of that range.  Breaking trail was at times a bit tough through the snow on the deeper end of the spectrum, but I enjoyed very good traction despite sporting the combination of AMPerages with RT-86 skins.  This combination struggled to provide traction in established skin tracks back on November 30th and December 1st outings at Stowe, but it was very solid today.  I've discovered that the width of the AMPerages combined with narrow skins proves to be a difficult combination in skin tracks that may have been made by narrower skis – it leaves one resting on just the outer edges of the wide ski base, where there is no skin.  Today's snow was dense with good grip, and I was able to head straight up the edge of the trail with minimal switchbacks.  Snow depth increased somewhat as I ascended, and that increase seemed to be on the bottom end of the range; the deepest areas weren't get deeper, but coverage was definitely getting better in areas that needed it.  More notable than even the increase in snow depths was that after the first couple hundred feet of elevation, the snow got drier.  There's definitely not enough base yet to open terrain to lift-served traffic down at that elevation, but it's getting close.  One good dump with an inch or two of liquid equivalent would have it there.  The wind actually subsided quite a bit by the time I was descending, so it was very comfortable with the temperature near freezing.
"Today's snow
was dense…"
I didn't have time for a really long run, so I headed right back down Twice as Nice, sticking to the skier's left where the snow looked deepest.  Indeed there were no issues touching down, and areas where depths were blown low by the wind were easily avoided.  This was my first chance to try the AMPerages in a denser, powder (morning analysis of the snow at the house came in at a Sierra-like 11.4% H2O) and they again showed that they were in their element.  After one cautious turn to see if I was going to find myself being tossed around in a Telemark stance… it was all downhill.  The turns were naturally really fun, with all sorts of new ski terms like smeary, slarvy, and drifty dancing through my head as the rocker in the skis did its thing.  I wouldn't say that I ever tire of skiing powder, but these types of skis can definitely inject a new level of fun if you're looking for something to invigorate your skiing.  Boy did I want to stick around for some more turns!
I'm not sure when the mountain started opening natural snow terrain, but as of today they've got numerous natural snow trails in the mix, including several black diamond runs on the upper mountain.  That is a very good sign that snow depths are substantial up there above 2,000'.  I see from one of Powderfreak's recent posts on the American Weather forum, that Stowe has also been opening up a bunch of natural snow terrain, and the skiing looks excellent.  It appears that some upslope snow could be coming in to the area tomorrow with the back end of this system, and that might deliver another foot of powder in some areas.  The skiing should be quite good with that addition, and with potentially more of these storms in the pipe, we could be looking at a very good holiday week for the local resorts.