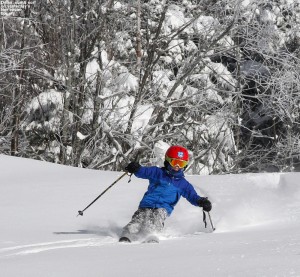 The snow from yesterday's nor'easter had essentially shut down by late afternoon, and while there was a touch of upslope snow after that, there really wasn't any refill to provide another huge round of fresh powder for today.  With that in mind, we didn't rush off to the mountain, but instead took care of things around the house such as finishing off the driveway with the snow thrower, etc.  Eventually we headed out to Bolton Valley in the mid morning timeframe, and I'd contacted Stephen earlier and learned that he was probably 30 minutes or so ahead of us.  We again spotted a car at Timberline as we'd done on Sunday, figuring we'd head over that way depending on how the day went.  The resort appeared to be frantically plowing the parking lots there, although we didn't quite know why at the time.  As we approached the Village, we figured out why; we saw that traffic was backed up, and within a minute or two we knew that all the upper lots were full.  It was actually pretty convenient being where we were (near the outlet of Wentworth Road), since we just spun around and parked on the access road following the advice of the parking attendants, but this was the first time in our seven seasons of visiting the resort that we've actually parked like that.  I've seen it done before on busy days, but we've always been much earlier or later and found a spot in the main lot.  In any event, I took it as a sign that the holiday visitors had arrived and business was looking good.  I think the combination of the big storm yesterday (in which many people probably didn't venture out to the slopes due to the difficult travel) and the holiday week really came together to get everyone out today.
It was good that all four of the main mountain's chairs were running, but queues were forming.  We opted for a run on the Mid Mountain Chair, since the queue was just a couple of minutes.  We came straight down on Beech Seal, which amazingly still held some nice untracked powder on the sides.  It was still that medium weight powder, but it skied pretty well where it was untracked.  The queue for the Vista Quad had disappeared when we got back to the base, so we got ourselves to the Vista Summit and headed down Cobrass.  There's definitely been a solid resurfacing on Cobrass (as well as the rest of the slopes), and although there were still a few slick spots, it was overall quite good.  We popped into the Villager Trees, where coverage was definitely fine, but the higher density of the snow seemed to leave its impression in there.  It was difficult to really get into a groove, because even one set of tracks in the snow made it much more challenging.  It was difficult to explain, but we could feel how things were just off at that point.
"As she floated her way down
the Spell Binder headwall, E
finally got to really feel her
Black Diamond Element fat skis
in their 'element' so to speak…"
We finished off the run catching the bottom of the Butterscotch Terrain Park, which is still just being left for powder skiing without any features.  Even just catching the bottom of that area was enough to get a sense that it might be what we needed to reinvigorate everyone's skiing.  The powder wasn't so deep that you bogged down, and tracks were sparse enough that you could get some fresh turns, or plentiful enough that you were skiing on skier packed snow.  There wasn't any of that deep, semi-tracked snow that was feeling so difficult to ski.  There was little if any queue for the Snowflake Chair, so we went through the park terrain three times before the boys decided that they needed to eat.  For me, the snow in there was skiing just right and I would have been happy to ski it all day.  We got to see Claire and Luke, and make a run with Stephen and Johannes as well.  E was also very observant and noticed that a young boy had lost his mother at the Snowflake Summit, so a quick cell phone call remedied the situation.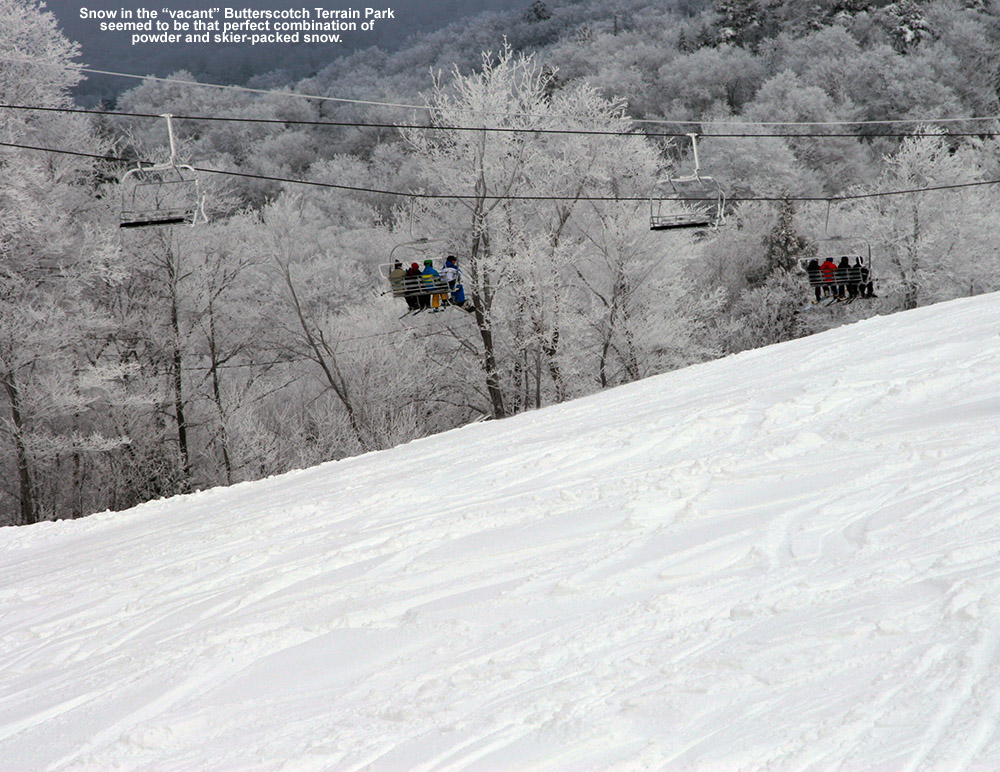 The base lodge was jam packed, so we took a look upstairs at Fireside Flatbread to get some pizza and grab a seat.  Unlike yesterday when Dylan and I walked right in and sat down, it was filled to capacity.  We hung out along the side for a while near the big stacks of wood for the fire, and eventually got a seat and some slices, but even as we approached 2:00 P.M. it was just a continuous flow of people picking up slices at the counter.  Business was so steady that they even ran out of dough soon after that, and had to shut down for a while to prepare more.  I couldn't believe how people just kept streaming in well into mid afternoon, but I overheard that the wait for a table at the James Moore Tavern was an hour and fifteen minutes.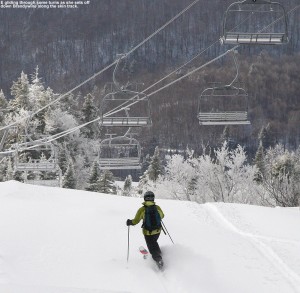 E and the boys were ready for one final run after that, so we decided to head over to Timberline.  They were actually grooming terrain on Timberline, and I heard on one of the patroller's radios that they were going to be opening the route back to the base to let people ski back to their cars.  Although the snow was still that medium weight powder that had sort of proven itself susceptible to deteriorating the skiing with traffic, the skiing was actually better in some respects than with the Champlain Powder™ from Sunday.  It was combination of a thorough resurfacing with the denser snow, but also the somewhat uncommon easterly wind that hit with the nor'easter.  The combination had snow sticking to the steep pitches on Intro and Spell Binder, leaving a gorgeous covering of white in those spots that are typically scoured by the wind.  With lightly tracked snow, the skiing was superb, even if one wasn't sinking in as deep as they would in the fluff.  As she floated her way down the Spell Binder headwall, E finally got to really feel her Black Diamond Element fat skis in their "element" so to speak, and she mentioned how she was recalling the comments I'd made about the front rocker allowing you to be more aggressive and still put that weight forward in the powder.  I think she looked really good in steep powder, which has definitely been challenging for her on Telemark skis.  The afternoon sun came out as we were making our descent, which really set up some great end of the day photos to cap off another holiday session on the slopes.  It sounds like another round of snow is on the way for tomorrow and tomorrow night, so that should help to keep the snow surfaces in great shape.