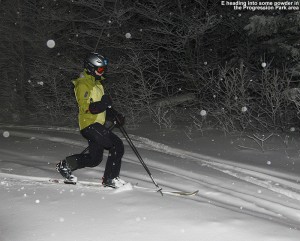 Earlier today when I was heading up for some afternoon skiing, E suggested that we should go night skiing because it looked like the snow and weather conditions would be good.  We're always on the lookout for that convergence of fresh snow, moderate temperatures, and low wind for time under the lights.  So, as soon as I was done with my afternoon session, I picked up E and Dylan at the house and we headed to the main base area at Bolton Valley for some turns.  Indeed E was right on with the conditions; the trails were chock full of new snow, temperatures were in the mid 20s F, snow was falling, and there was no wind.  Those are just the sort of conditions that we've found to make night skiing at Bolton Valley especially enjoyable.  The Snowflake Chair was running, so I dropped E and Dylan off there for some runs while I parked the car and got ready.  There were good parking spots right in the top tier lot, and while I was getting ready I heard a familiar voice helping someone get their car out of the snow.  It was Will, one of our BJAMS benefactors who lives up in the Village.  We chatted for a while about the snow, the wonderful conditions, and various other skiing-related things.
Eventually I made my way to the slopes, and met up with E and Dylan after they had finished their third Snowflake run.  Dylan was working on his Telemark skiing and doing a nice job – this was his first session on the 118 cm Völkl Gotama Juniors that he inherited from Ty, so it was a step up in size for him.  E was excited to be back on some skinnier skis after being on her fat Black Diamond Elements for a couple of days.  We took a run on Sprig O' Pine, and the snow surface was indeed fantastic – packed powder and powder everywhere, and there were only a few people out on the slopes.  Dylan insisted on riding the lift alone… because he could, but it meant that E and I got to ride together.  We made a trip up the Vista Quad and were able to take the upper part of the Vista lift line at the start of our run.  I think they've removed some stumps and other debris to make it more skiable, and boy was it nice.  It's only partially lit, so it was a bit of an adventure making turns, but the powder was great.  The whole trip down Sherman's Pass was just one soft turn after another, and Mother Nature continued to pile it on from the sky as well.
We went back to Snowflake for a run in the Progression Park, and those were some of my favorite turns of the night.  I'd pulled out my RT-86s for the evening session, and after several days on the AMPerages I'd forgotten just how lively a narrower, midfat-waisted ski (86 mm) could be compared to skis with a relatively fat profile (115 mm waist) on snow that wasn't bottomless.  Being back on the RT-86s made for some really fun carving in the powder and chowder.  One way to describe the conditions from tonight were that they were the sort that made you never want to leave.
When Dylan's hunger overcame his desire for turns, we headed into the lodge and got some pizza at Fireside Flatbread.  Gone were the crowds of yesterday, although there was one large group of 15-20 people at a large table.  That's our third time at Fireside Flatbread in three days, and Dylan seems to be enjoying it – it's really convenient to pop in there and get a slice, and it's really good flatbread.  Dylan was in rare form, chatting about everything and carrying around some comical cocky persona that was just too funny.  He was indeed having a lot of fun out on the slopes, and the saying he adopted to describe the evening was "Lights, Powder, Action!"
We finished off the evening with one more run in the Progression Park, where Dylan invented an interesting technique in which he turned both directions in the same Telemark stance – it was quite original, although I'm sure it's a drill of some sort that folks have used.  Right as the lifts were closing, the small snowflakes that had been with us all evening changed over to larger, upslope-style flakes, and they were beautiful under the lights.  I stopped for a few pictures before we headed to the car, one of which was a tree that was entirely encrusted with rime.  I shot upwards to get the tree and some of the big snowflakes against the black of the sky, and it was an interesting image.  It was a fantastic evening on the slopes, and I wish we could get conditions like that all the time at night; I'm sure we'd be out there much more often.