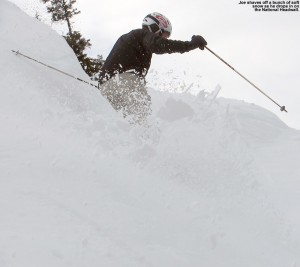 Today's weather was a lot like yesterday's – the morning started out quite cold, but bright March sunshine quickly brought temperatures well up into the 40s F even in the mountains.  We were back at Stowe for our BJAMS ski program today, and people seemed really excited to get right out and taste the skiing on soft snow under sunny skies.  With no notable snowstorms affecting Northern Vermont over the past week, base depths have stagnated and the snowpack at the stake remains at 64 inches.  That's within an inch of where it was a week ago at this time, and while the dearth of storms is keeping the snowpack below average, it's still deep enough for ample base on just about every slope.
"…although the surface wasn't
quite corn, it was a beautiful,
soft concoction of softened
snow that just peeled away
as you dropped in…"
Today we joined up with Joe's group to form a large aggregate of 11 skiers, and our first goal was to get Ken out for a run on Angel Food.  We're approaching the time of year when people start to switch up their ski clothing to accommodate the warmer temperatures, and there's always the danger of leaving your season's pass in an article of clothing that you're not wearing.  Indeed that's exactly what happened to Luke today – as he got in line for the Gondola he realized that his pass was in his other jacket.  While he headed back over to Spruce to grab it, the rest of us decided to put Angel Food plans on hold for a run on Gondolier, allowing us to quickly meet him back at the bottom.  I'd say this change in plans was probably for the best, because the early afternoon sun was creating some sticky snow, and it was best to go for areas with skier traffic for a firmer surface.  The snow was beautifully pliable and soft, and certainly not overly slushy on the groomed runs, but you would still encounter some stickiness.  Off piste areas without any traffic indeed had mushy snow, and not knowing the traffic levels out at Angel Food, we decided it was best to hold off until surfaces were either fully converted to corn, or we got back into some winter snow.
With the new assessment of snow conditions, we decided to head over to ski some terrain off the Fourrunner Quad.  Slopes with snowmaking often have that denser snow that provides a bit of resistance to that stickiness, so we headed over on Cliff Trail to check out Nosedive.  Lower Nosedive was OK, but even with its manmade snow it really didn't offer that much of a difference from what we'd experienced on the natural snow terrain, so while checking out Upper Nosedive was on our list, we were certainly open to other options.  A definite highlight of Nosedive was that due to the soft snow, every little terrain feature and jump is getting that extra bit of sculpting, and the kids were chomping at the bit to hit one of their favorite kickers at the Nosedive/Cliff Trail intersection.  Soft snow for landings meant that going a bit bigger was the call, and even the adults joined in and threw out some air of their own, including a classic spread from Ken.  As we remained on the lookout for other trail options, some quickly presented themselves as we made our next ascent on the Quad and looked down at Liftline and National.  They looked like they were in prime form, the skiers we saw seemed to be having a blast, and we know that this was the perfect kind of snow for skiing them.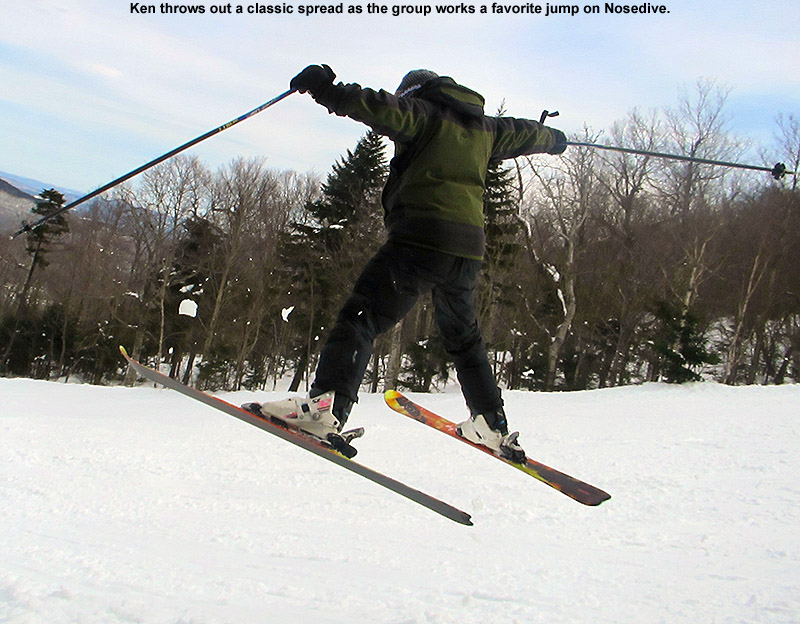 We quickly changed our plans to a descent of National – the top of that National Headwall is very steep, and this was the perfect time for the students to practice those steep turns without any ice.  We found the headwall in nearly perfect form – although the surface wasn't quite corn, it was a beautiful, soft concoction of softened snow that just peeled away as you dropped in, and the high elevation and steep aspect meant that the sun wasn't provoking any sticky melting in the snow.  A lot of positive vibes came out of the descent of the headwall, as some initial trepidation dissolved when people realized that dropping into something so steep was well within their means, and that it wasn't only manageable but downright fun.  Luke T was extremely impressed with how well he skied his entry, and he looked great as he cut well controlled turns down the steep face.  Joe was immediately calling for another go at the headwall because he'd had so much fun.  Below the headwall sat the never ending land of steep bump lines, and I think everyone got a workout and then some as we worked out way down Liftline.  While Ken worked with Joanna on some of the finer points of tackling that sort of terrain, the rest of the gang gathered farther down the trail… and naturally a snowball fight broke out.
Ty wanted to ski the same run again, just so that we could have another snowball fight, but the general consensus was that the headwall was just so much fun that we had to do it again.  On the second lap I shot some pictures of people dropping into the headwall, and managed some decent ones even though I only had E's Canon PowerShot ELPH 510 HS point and shoot on me.  It's got a decent high speed burst mode capturing 3 megapixel images at ~8 FPS, but it locks the focus on the first image and you can't really zoom while shooting, so there are certainly some limitations relative to using a DSLR.  But, it gets some good pictures in a pinch.  To mix things up we continued on down to Lower National instead of Liftline, and I'd say everyone's legs were getting pretty cooked by the end of that one.
We finished off the day with some Lord Trees and a run on Hackett's Highway, which the boys have really been enjoying lately.  Coverage is still great there, which speaks well about the natural snow depths, even on the lower half of the mountain.  The cliff bands have got some patchy spots with poor coverage, although that is somewhat typical even when the snow depths are above average.  Clouds came in as the afternoon wore on, and those surfaces that had gotten a bit sticky actually sped up without the direct sun.  It looks like we've got a couple more warn days coming up to start the week, but then we've got some midweek snow and winter temperatures for the foreseeable future.  Hopefully we can get sufficient new snow this week to cover up the snow surfaces, because the return to winter temperatures will probably set them up firmly and they'll be scratchy without some powder.