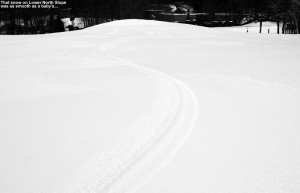 We were last out at Stowe for turns on Sunday, and since that time there really hasn't been much in the way of new snow – about an inch fell at 1,500' on Tuesday, with probably a couple of inches up near the Mansfield ridgeline.  That wasn't much to inspire one with thoughts of great ski conditions, but since I was in Morrisville today for the annual BJAMS Thanksgiving lunch, on the way home I decided to pay a visit to Mt. Mansfield and make use of the energy provided by that great meal.
"…the forecast suggests
that we've got three
potential systems moving
through in the next few
days…"
Temperatures that were in the teens this morning were hovering near 40 F in the mountain valleys and up at the Mansfield Base in the early afternoon.  Although it was above freezing, the air seemed quite cold and there was no melting going on – the dew points were just sitting there down in the teens.  I parked a bit north of the Mansfield Base Lodge, got my gear together and began skinning up toward Lower North Slope.  With an inch or two of natural snow supplemented by some snowmaking blow-over, the look and feel of the snow on that first pitch above the parking lot was quite encouraging.
There was an occasional skier here or there on the slopes, but as one might expect on a pre-season midweek day without any obvious storms having gone through the area, it was pretty quiet.  The snowmaking lines were definitely charged in many areas, but with the marginal temperatures, the guns seemed to be on hold.  That kept the scene especially peaceful.  I ascended at first via North Slope, and while Lower North Slope had seen a massive bombardment of manmade snow thanks to the cold temperatures, above Crossover the surface was a refrozen mess that had either seen snowcat/snowmobile traffic or previous skiers.  The uneven surface was occasionally slick enough to cause some skin slippage on the steepest pitches, so at the top of the Mountain Triple at ~2,700' I switched over to Toll Road for a change of pace.  The skinning there was delightful, with a track recently made by another skier in a couple inches of powder.  I continued on up Sunrise and Lower Ridgeview, and finally stopped my ascent at the next junction with Toll Road at 3,300'.  Based on what I'd seen during my meandering climb of the mountain, I liked the prospects for starting out with some turns in the powder along the edges of Toll Road.  In general, slopes that hadn't seen fresh snowmaking were going to be a scratchy mess of refrozen corduroy, bumpy snow, or worse yet, snow that had been beaten up by the treads of machinery… and then solidified.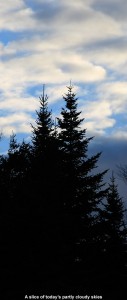 I started down Toll Road, and indeed the surface was as expected – where vehicles had traveled it was very disheveled, but fortunately the edges held frequent untouched powder of a couple inches that made for some smooth turns on the gentle pitches.  Sunrise was steeper and held the occasional good pocket of powder off to the sides, but generally the scratchy, messy snow that marked the low end of today's spectrum of conditions.  However, when I found myself on Gulch I was greeted with some freshly-made snow that produced some great turns.  There was quite a mix of options on Gulch, with turns on the manmade and occasional jaunts into the natural snow where nothing had been blown.  Like Sunday, at Crossover I once again found myself looking down Lower Lord at some impressive snow – it was that mix of natural bolstered by manmade, and I got about 10 turns worth of good stuff before I cut through the trees over to Lower North Slope.  Natural snow almost always trumps manmade snow, but for today, I actually might have to give top honors for most fun turns to that freshly-made stuff on Lower North Slope.  Where it hadn't been touched by any equipment, which was fortunately most of the slope, it was billiard table smooth – and it offered up turns just as smooth.  You would shave off just a half inch or so of that snow and the turns were dreamy.  The surface seemed so durable despite its softness, and it made me wonder how a non-groomed surface like that would hold up to skier traffic.  It was a really fun way to finish off the run.
"…I actually might have
to give top honors for
most fun turns to that
freshly-made stuff on
Lower North Slope."
So, although the base depths certainly aren't up close to the two foot mark the way they were last week, the base of 7 inches or so up high is right around average – and we're not talking about 7 inches of fluff, this is stuff that has already been consolidated by the warmer temperatures from earlier in the week.  I think we're going to see some interesting options in the higher elevations when natural snow moves in and starts to build upon what's there.  And, we may not have to wait long – the forecast suggests that we've got three potential systems moving through in the next few days, and possibly even a fourth, larger system, in the middle of next week.  That one is still too far out in the modeling world to really be considered likely at this point, but it's got people's interest because it could be a coastal storm with more copious amounts of moisture.  In any event, the first three events are much more likely, and should be almost exclusively snow in the mountains.  I'm curious to see what we get out of these systems, because as we know, the Northern Greens can often take these smaller snow events, run with them, and deliver the goods.