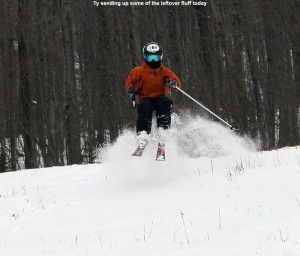 Although I never made it up to the main mountain yesterday, the skiing I found at Timberline was quite good, and suggested that the snow would be even better at higher elevations.  That snow, combined with the continued moderating temperatures expected to rise through the 20s F into the 30s was a recipe for some very nice skiing.  The forecast has been predicting these conditions for a while, and E and the boys were on board for getting up to the mountain today as well.  I'd told E about yesterday's turns, so we had to decide if we wanted to go for some of that powder at Timberline, or ride the lifts and ski at the main mountain.  We decided that it would be good for the boys to get in some lift-served skiing at Bolton Valley, since they've yet to do that at all this season.  We also realized that we could still work in some Timberline powder if we spotted a car at the Timberline Base, and that would get the boys a little of everything.
"I have to admit, I
could really tell the
difference between
being on my mid-fats
today, and being on
my fat skis yesterday."
When I was checking out the Bolton Valley website yesterday evening, I noticed that they were having a special promotion today – it was the first of four Subaru/Hyundai days in which owners of those vehicle brands could get a free lift ticket for the afternoon.  Also, additional guests could get tickets at 50% off.  I wouldn't have been more than a passing thought, except that E was thinking of getting out with Gabe, one of our BJAMS students, to let him practice snowboarding before our regular season program begins at Stowe next week.  I told E about the promotion this morning, and although it turned out that she didn't get together with Gabe, we had another potential student that could use a ticket.  E was planning to get together with Claire to work out the ski groups for the ski program, and during their planning, they realized that Luc could come and ski with us using a free ticket.
Claire dropped of Luc with plans to meet with E again later, and we headed up to the mountain.  Heading up the access road, it was right as we approached the Timberline area that we realized our day was going to be a bit different than we'd expected.  The sign was already up indicating that the upper parking lots were full, and that meant that there were a lot of visitors at the mountain today.  Although we could probably have found a spot up in the Village lots from people that were leaving, we decided to park the cars at the Timberline Base, since we'd already been planning to end up down there anyway.  It was about three runs of the shuttle before we were able to get on, but once we did, the boys loved it since it was their first opportunity to ride the Bolton Valley shuttle bus.
"I guess when half the
state owns Subarus,
you're going to get a
response to such a
promotion."
As if the need to initiate parking down at Timberline hadn't been enough of a signal, at the base area, it was immediately obvious that the Subaru/Hyundai promotion was a hit.  I guess when half the state owns Subarus, you're going to get a response to such a promotion.  The lift queue at the Vista Quad was quite long, and had to be at least 10 minutes.  We decided to take a run on Snowflake, since the queue wasn't too long, and the snow on the Butterscotch slope looked quite good.  Indeed the snow was quite good, with some powder off to the edges, but it was just too short a run to be waiting 5 to 10 minutes to ski it, so we decided to make the next run down to Timberline.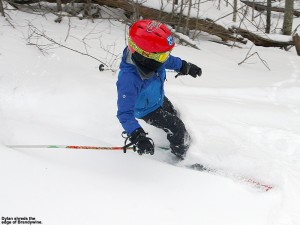 From my Timberline explorations yesterday, I knew that there would be plenty of decent skiing even if we just followed out the Timberline Lane traverse to Brandywine, so that's what we did.  When we got there it was immediately obvious that there were more tracks than yesterday, so it was more challenging to find fresh snow.  Also, folks were finding the skiing a bit tricky, due to the snow composition and coverage.  I have to admit, I could really tell the difference between being on my mid-fats today, and being on my fat skis yesterday.  Typically that difference in powder performance is more subtle, but not today – the fat skis had kept me that little bit higher in the snow yesterday, and that meant minimal interaction with the base or any crust that was sandwiched in between the layers of powder.  Also, with the areas of untracked snow not as vast as yesterday, it limited line choice.  Although the conditions were a bit challenging for E and the boys at times, there were still a lot of great sections of powder, so great turns were made.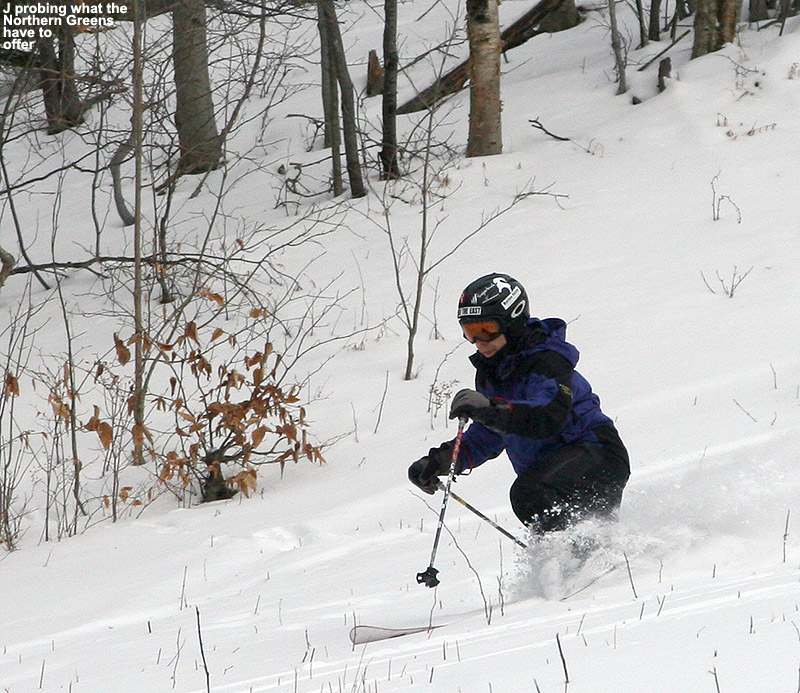 Back down at the cars, it was mid afternoon, and the combination of lift queues and conditions on Timberline that while OK, certainly didn't have E and the boys raring to go for more, and that made it an easy decision to just call it a day.  We headed back to the house where E and Claire spent some time working out all the groups for the ski program.  I'm not sure how many extra tickets were sold today for the promotion, but it certainly brought people out.  The fact that it was a nice mild day after the recent cold weather probably played into it as well.  Hopefully they can have some of the other main lifts open for the next one of these promotional days, because that wouldn't put so much pressure on the Vista Quad.  With the base snow that is out there, all that's needed is one good synoptic snowstorm to hit the area without going too far south or north and most terrain would be able to open.