The season before last was our most recent trip to Jay Peak for Mother's Day weekend, and over the past few weeks it's been looking like this season might offer a chance for a similar trip. Although April didn't deliver much in the way of new snowfall, the cold temperatures in March and fairly average April temperatures kept the snowpack around. Jay Peak even decided to keep their lifts running for Mother's Day, which was not the case back during the 2012 trip, when we hiked for turns.
The lodging packages can be great this time of year at Jay Peak, and a few weeks back at the end of April, I got an email about their deals in May, which included a $229 Ski + Splash + Stay option for the entire family. Since that's not too much more than it would cost the four of us to just go lift-served skiing for the day, it's a great deal when you realize that along with the skiing you get lodging, two days of water park access… and two days of skiing. Unlike our last Mother's Day package, this year's doesn't include the Mother's Day brunch, but it does include fresh pastries and OJ delivered to your room daily.
"We basically had the
whole trail to ourselves
though, with just a
couple other skiers
out in the area…"
I watched the forecast to make sure that the weekend wasn't going to be a washout, and by midweek it was looking good and we called in a reservation. The boys have fun skiing of course, but when it comes to Jay Peak, it's really all about the Pump House Waterpark. We let them know that if they wanted to head up to Jay Peak and hit the water park, they'd have to agree to at least put in some practice on their Telemark gear. With the ebb and flow of this season, they just haven't gotten in many Telemark days, and we wanted to get them a bit more time to work on their turns before the season came to a close.
The boys were definitely on board with that idea of some Telemark time, so in the afternoon we loaded up the gear, stopped off for some groceries, and headed up to Jay Peak. It was surprisingly warm today, with temperatures in the 70s F at the house and even a bit of humidity due to some rain that had come through. The clouds were pulling out by the afternoon though, and the sun kept the temperatures right up there in the 70s F even as we approached the mountain. We checked in at the Tram Haus Lodge with the help of some friendly lodging staff, who brought us, our bags, and our ski clothes right up to the room so that we could gear up for some afternoon turns while the lifts were still running. We had a different style of room this time than our previous trip back in 2012 – on that trip we had a 1-bedroom, which has a separate bedroom from the main area, and a full kitchen. This time we had a studio sweet, which has a smaller kitchenette area and it consists of only one room. There's typically a higher cost for those rooms, but if you want a bedroom with privacy or the larger kitchen, it's the way to go. In either case, both rooms we've been in have that same level of quality craftsmanship, with a Vermont theme in the décor. We actually only had a short time to check out the room when we first got there though, because we quickly got our ski gear on and were out the door to catch some afternoon turns.
There's actually skiing available at both the Stateside and Tramside areas, although the areas of skiing aren't currently connected, so you have to pick one or the other. With the late hour, we decided to ski Tramside, since we wouldn't have to travel anywhere. Also, the skiing there was on the Interstate trail, which is just about perfect for the boys to work on their Telemark turns. We grabbed our ski gear from the car, booted up, and headed right to the Metro Quad in front of the Tram Haus Lodge. The biggest thing that struck me was how easy it was to walk in my boots; with Telemark boots at temperatures around 70 F, it felt like I was almost walking around in street shoes.
Once on the snow, the boys jumped right into their Telemark turns as if they hadn't missed a beat, and that's what we were hoping to see. For Dylan, identifying his strong and weak sides was more obvious, but Ty was really putting down some consistent turns in both directions. The snow was mostly decent corn, but there were a few sticky spots, and a few spots where coverage is getting narrow. We basically had the whole trail to ourselves though, with just a couple other skiers out in the area, and it was especially familiar since it was where we'd had some of our favorite turns when we visited over the holidays.
When the Metro Quad shut down, we headed back to the room and everyone relaxed for a bit. After I got some work done, Ty, E, and Dylan were still reading or playing on their tablets, so I decided to head back out for a quick ski tour before dinner. I switched back into my ski clothes, got my skins and skis from the car, and headed for a quick skin up Interstate. The sun was still an hour or two away from setting, and the snow remained quite soft. It was kind of a treat to just walk out the door and have the snow there at this time of year.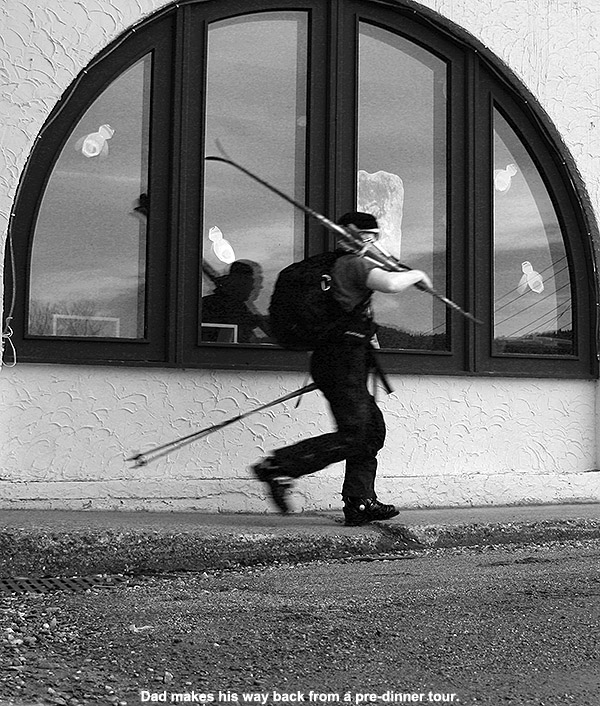 After dinner, the boys were calling for some water park time, and we had some good rides in the river and on the slides before finishing off with a sit in the indoor hot tub. It wasn't overly busy, but there was a steady stream of people at the slides, so I suspect there are plenty of visitors to pay the bills. The attendant who was running the green and blue slides tonight was a lot of fun; he was constantly proctoring races between the two slides. I raced Ty and Dylan with me on the green slide and them and on the blue slide, and they won. The blue slide must be shorter. There was also a prom going on this evening for Richford over in the tram base lodge, and along with a hockey tournament that's taking place, there have been a lot of people out an about around the resort grounds today. We'll see how everything goes for Mother's Day tomorrow, but hopefully we can check out the Stateside area and make some turns over there.