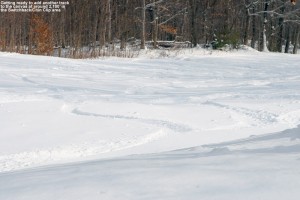 Areas downwind of the Great Lakes such as Buffalo have been making headlines due to feet upon feet of lake-effect snow falling in rather short order, and in Northern Vermont we've picked up an inch or two of snow here and there thanks to being downwind of Lake Ontario. On Tuesday evening though, we got into the action a bit more as things aligned correctly to drop roughly a foot of snow on Mt. Mansfield. We only picked up about an inch and a half of snow at our house in Waterbury, in association with that event, so I didn't even suspect that Mansfield had been lit up with that kind of snowfall. However, mountain valleys farther to the east of the Green Mountain spine picked up a few inches, and that was a bit of a tip off that something was up. When Powderfreak started sending in powdery pictures to the American Weather Forum noting the substantial accumulations at Stowe, it was becoming clear that there was some nice powder skiing out there.
I didn't have time to check out the snow yesterday, so this morning I headed out for an early ski tour on Mansfield, and found 3 to 4 inches of snow at the Midway Lot near the base of the Gondola. I followed a well established skin track that headed up Chin Clip Runout, and then diverged to follow Switchback for the next part of the ascent. When I reached Gondolier I decided to just finish out the ascent to the base of the big Gondola waterfall on the skin track I saw there. I didn't have time to travel any higher, but up at that ~3,200′ elevation there was roughly 6 to 7 inches of powder, which sat atop a few inches of dense base snow.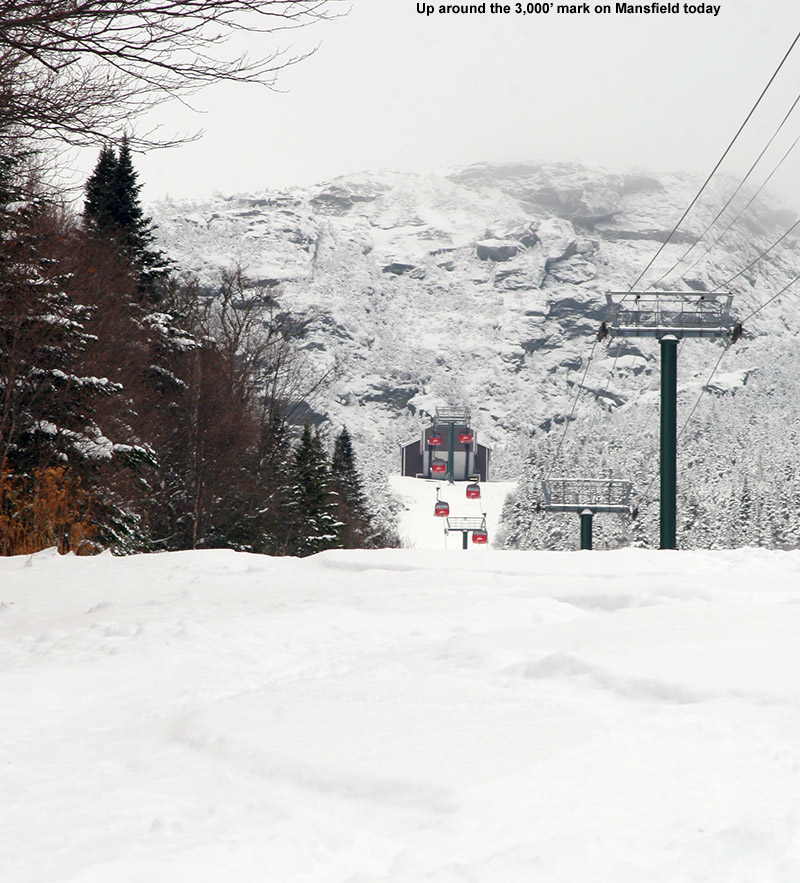 The snow depths I observed for the powder above the base today were as follows with respect to elevation:
1,600′: 3-4″
2,000′: 4-5″
2,500′: 4-6″
3,000′: 5-6″
3,200′: 6-7″
I dropped in for the descent on Perry Merrill, and there were just a couple of additional tracks there, so plenty of fresh powder was available. I'd pulled out the fat skis, and they were the perfect tool for the occasion – they kept me floating and gave me some really great stability. I did have to watch out for a few rocks here and there, and at times I switched to alpine turns when it seemed like the base was a bit thinner or the rocks a bit bigger. I found that alpine stance kept me floating a bit higher, and today I really noticed how the AMPerages actually seemed to make it easier to ski alpine style in Telemark bindings. It's not always easy to ski alpine with a loose heel, but I was very surprised at how stable it felt in today's conditions. I think the stability and rocker of the fat skis were really playing their part. I eventually made my way back over toward Switchback and connected to Chin Clip Runout to finish off my run, and the grassy slopes down there were perfect for where the powder and base was a bit shallower. It was still fantastic skiing though, and some of my favorite turns of the outing were down there below the 2,100′ elevation. That terrain is so grassy with few rocks that it was easier to just let it ride without worrying about rocks. Rock skis would give you a bit more ease of line selection out there and more peace of mind, but you can certainly get by and have some fantastic turns with regular skis as well.