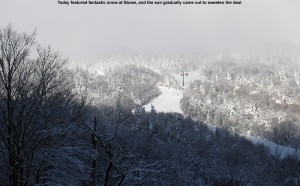 Today was our annual training day for Stowe's ski program with the local schools, and indeed it was a great one. We've often had fresh snow on these mid-December training days, but the past few days featured a cutoff nor'easter that delivered 2 to 2 ½ feet of snow to the Northern Vermont ski resorts. And, the snow wasn't just fluff either; there were roughly three inches of liquid equivalent in that snow, so it was a major boost to the natural base depths. The snow depth at the Mt. Mansfield Stake just pushed past 30 inches with that storm, and it probably won't be settling too much due to the density of the snow.
"…there was just so much of that deep packed powder that it didn't even make you want to head off the beaten path for untracked snow."
The forecast for today was looking great; with the low pressure system finally weakening, there was the chance for some sun, and temperatures would be in the 20s F. With the hefty amount of construction going on over at the Spruce Peak Base Area, the meeting place for today's session was in the Midway Lodge. The space actually felt much better than the old day lodge where we would typically meet, and a lot of that seemed to be because the space was simply configured better. Everything was well organized when we arrived, and since we had almost an hour before we'd get together with our group, I headed over to the Spruce Peak Base for a bit to eat at the Great Room Grill. The new structure that's going in over there is still at the stage of steel framework, but it should ultimately have plenty of space for the children's programs and whatever else they'll be putting in there.
We got together with Joe and Emile from BJAMS for our ski group, and had Steve Dever as our instructor for today, who is actually Emile's neighbor. Each year we seem to get a little something different out of the training session, and this year Steve spent a lot of time on techniques for safety, such as strategies for where to stop on the trail and how to position your body to ensure maximal visibility of oncoming skier traffic. On the technical side, we talked a lot about pole work and "finishing" turns with regard to speed control.
We were generally on piste today, but conditions were simply fantastic on the groomed runs as one might expect after two feet of dense snow. Those first couple of runs on Perry Merrill were simply divine as far as groomers go. We headed over to the Fourrunner Quad for the second half of the morning, skiing some of the usual routes out toward Sunrise. Steve stopped us above the Chapel Glades, pointing out how that was a great one to do with the kids, and the snow looked good enough that a number of our group headed in and met up with everyone else on the other side of the glade. I checked with my measurement pole and found 21 inches of snow there, so there was more than enough coverage. We're well past the 24-inch mark at the stake, and the fact that so much of that is dense snow makes it even more substantial. Coverage really wasn't an issue in there, and there were areas of packed snow where there had been enough skier traffic. There was plenty of powder in there was well though, so getting into the powder off piste is definitely an option on appropriate terrain now.
The sun was out a good bit this morning, and with temperatures probably around 30 F at the base, you couldn't really ask for much more. You could certainly see the quality of the groomed snow drop a bit on the popular routes as the morning wore on, but there was just so much of that deep packed powder that it didn't even make you want to head off the beaten path for untracked snow. If I'm not searching out powder to ski in, that's a definite sign of some seriously good snow on piste. It was a little hard to pull away in the early afternoon, but we wanted to pick up the boys from Norris' house in time for him to get off for his Nordic skiing program. The next snowstorm appears to be coming in the middle of the week, so we'll see what we get out of that one.