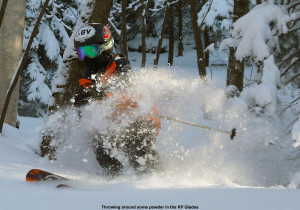 We've only had an inch or two of new snow since Monday's winter storm and our last Bolton Valley outing, but as is typical of January, it's been consistently cold so the powder has just been sitting there. Heading out for some backcountry turns today was certainly a reasonable option, but I also suspected there would be plenty of lift-served powder available at Bolton Valley; with only a few midweek days since the storm, skier traffic should have been relatively low. Dylan's very much on the mend from his recent bout of Strep, but he's certainly not to the stage where he should be heading out on the slopes, so E decided to take him to BJAMS to get some work done. That left me and Ty in the mix for some skiing, and it made the choice easy – I know Ty would lean toward some lift served turns, and I was happy to hedge that way as well knowing that we'd be able to get into a lot of powder.
"The snow was fantastic – I stuck my poles in the snow to hold my gloves while I ran the camera, and the poles sunk up to the handles."
We grabbed some fairly fat boards and headed up to the mountain in the late morning.  My plan was to start us down at Timberline, which turned out to be an appropriate choice because the resort already had signs up indicating that the parking areas at the main mountain were full. There was ample parking in the Timberline lot though, and the attendant directed us to one of the spots in the circle right below the Timberline Quad. Temperatures were right around 30 F and skies were partly cloudy, so it was a choice day to be out there.
We headed right to the Timberline Summit to get us on our way to the main mountain, and on our way down we made a quick visit to the Lower Villager Trees to sample some of the powder lines – there was 12″+ of soft snow above the base, topped off with a coating of the most recent bout of champagne snow that we received yesterday. Ty chose a neat line under what looked like a beech tree that had been bent into an arc. His biggest issue with the line was the photographer getting in the way.
Arriving at the main base we could see that there really wasn't much in the way of lift queues; with all the lifts running, even a full parking lot doesn't seem to do much to back things up. There was an event going on atop the main deck at the base lodge; I'm not sure what it was, but the deck was full of people. Ty and I headed right over to Wilderness, and my plan was to take him to Stanton's, or at least that general area to get some steep powder turns. I told Ty how I was taking him to a line that he'd said was too steep for him several years ago – it was January 6th, 2008, so he would have been four years old at the time. I guess we can cut him some slack for feeling it was over head at the time. When I told him about that story today, he sort of laughed and said that he doesn't run into much that fazes him now because of steepness. Even way back on that day when he did find it too steep, we suspected where things would eventually end up. Sliding into position atop Stanton's, we could tell that, not surprisingly, it had been hit by plenty of traffic, so we headed a few yards back to one of the lines that was still untracked. I dropped in to set up for some photos and found that there was plenty of powder, even for those steep shots. Ty skied a nice line, but we didn't really pull any keepers out of that photo session.
The remainder of that run was one of the most enjoyably adventurous parts of the afternoon. We just continued on down below the chutes and let our noses guide us toward fresh tracks. We were in a bunch of seldom used terrain areas, working our way through the trees among Lower Crossover, Coyote, and Work Road. I laughed at one point and said to Ty, "I have no idea where we are!" Actually, I knew we were in the Fanny Hill Woods, but we were following a streambed that I'd never skied before, so we never knew quite what was going to come around the next bend. We eventually wound up at the junction of Fanny Hill and Abenaki Trail, and of course Ty said he knew we'd end up in that area all along. I wasn't convinced. In any event, that area sees very little skier traffic, so we saw hardly a track. Our first run of powder exploration was a rousing success.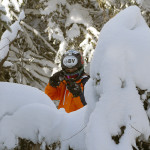 We headed to Vista next, and found Cobrass in really good form, especially off to the right side where the soft snow usually collects. We came screaming around the big bend below the headwall, where the snow was beautiful and you could just sink in those edges and let it rip. Next it was off to sample the Villager Trees, where Ty skied Heaven for the first time this season. The snow was fantastic – I stuck my poles in the snow to hold my gloves while I ran the camera, and the poles sunk up to the handles. We headed to the Sixth Corner area and then to some lines in Gump's on our way back to the Timberline Base.
It was mid afternoon at that point and we'd discovered that in sun-exposed areas there was just the slightest of melt layers atop the powder in the last few hundred feet of vertical above the Timberline Base. That wasn't surprising with the temperature so close to freezing down there, but it hadn't reached the stage of making the snow sticky, and it still skied like dry powder, so we decided to do a little more Timberline skiing. We visited more of Gump's, the KP Glades, and the Corner Pocket Glades with the usual powdery results. We rode up with an older couple from South Burlington that saw our skis and inquired about rocker in skis and whether it was worth it. I told them that most of the skis still have camber in the middle of the ski, so they're very versatile, and indeed the rocker is great for powder. For us the choice was a no brainer since we spend so much of our time off piste in the powder, with today being a perfect example. We talked about width as well – I was using my Rossignol Sin 7 skis, which are close to 100 mm at the waist, but said that if they spent a lot more time on piste, something with a width somewhere in the 80-90 mm range would be a good fit.
All told, Ty and I had a great day of exploring some new lines, visiting some old favorites, and generally catching a lot of powder. For today's action photography it was definitely the Ty show, but that's often how it goes when he's the only one along for the ride. I didn't get a chance to give him the camera since I was usually tracking down lines for him to ski, but perhaps we'll get one of the boys behind the camera next time.