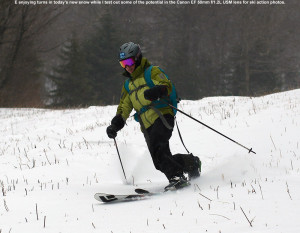 We've had a decent buildup to Winter Storm Goliath over the past several days because it was expected to be the first widespread winter storm to hit the Northeast this season. The forecasts were spot on with an initial burst of heavy snow in the wee hours of Monday night, as snow began to fall not too long after midnight, and by the time I made my 6:00 A.M. weather observations there were 4.3 inches on the boards here at the house. Early morning reports from the mountains weren't actually all that much greater than our total in the valley, topping out around a half a foot, but the snow was certainly going to do a decent job of resurfacing the slopes – my liquid analysis showed the snow coming in at a hefty 13.0% H2O. That's actually a great way to start building a natural base of snow.
"I could tell that in the appropriate areas the snow was going to offer those surfy, buttery powder turns that you get atop a good dense snowfall."
We were getting set to head up to Bolton Valley for some turns around noontime when we hit a very unexpected snag – Ty put on one of his Telemark boots and immediately let out a boisterous "Whoa, that's tight!" Apparently kids his age grow. Ty likes his boots really tight, so for him to say that was a bad sign, there was no way he was going to be able to ski in those boots. E quickly offered him one of her new boots, and it was a great fit. Ty was of course elated to have the chance to try out E's sweet ski boots, but of course that left her without a pair. Let's just say that it's fortunate for us that trash day is Thursday. E's old Telemark boots had been sitting around for a couple of years, and after finally bringing them to OGE last week for consignment and finding out that they were just too beat up for them to even accept them, it seemed like it was time to give them the heave-ho. Desperate times call for certain types of measures, so into the trash I went this afternoon, and the old Garmonts came back into service. Ty actually tried them on and found that even those were too tight, so "conveniently" he somehow still wound up with E's nice new boots and E donned her old ones. Needless to say, a trip to OGE is going to be in order to see what we can find for Ty in the Tele boot department.
The precipitation we encountered was generally sleet as we headed up to the resort, and we got a pretty good sandblasting with pellets driven by a strong wind in the Bolton Valley parking lot. There generally seemed to be 3 to 4 inches of new snow at Village elevation, but there was also plenty of drifting due to the strong winds, so it was hard to get a good estimate. The process of being blasted by sleet pellets tamed down as we began skinning up the sheltered slopes of Lower Turnpike, and after gaining a couple hundred feet of elevation, depth checks revealed 5 to 7 inches of dense snow along the sheltered areas on the climber's right of the trail. Even on Lower Turnpike, there were still some areas that were wind packed and or showed reduced snow depths due to stripped snow, but I could tell that in the appropriate areas the snow was going to offer those surfy, buttery powder turns that you get atop a good dense snowfall. The boys stopped their ascent at the junction with Wilderness Lift Line and jumped into the woods to play in the snow, but E and I continued on up to the base of the headwall on Cougar to get into some of the typically good snow that sits there. As we neared the top of our ascent I was finding pockets of 8 to 10 inches of snow in the best spots, but even half that amount was plenty to keep you well off the subsurface with the density of this storm's snow.
After a quick break, E and I began our descent, sampling the snow along the skier's left of Cougar and finding some reasonably soft lines in the dense accumulations. As E descended I took the opportunity to get in a first test of ski action photography using the Canon EOS 7D Mark II with the Canon EF 50mm f/1.2L USM lens. I've been looking for a really bright lens to supplement my Canon EF 24-105mm f/4L IS USM workhorse – especially for dark storm days like this near the solstice. Although it's a prime lens, 50 mm on an APS-C camera is in a pretty nice spot with respect to focal length for my type of ski action photos. And, it's hard to argue about the monstrous light-gathering ability of an f/1.2 lens – wide open it's more than an 11-fold increase over my f/4 lens, so it should be able to handle even the darkest of storm days. Obviously shooting action photos wide open at f/1.2 with its razor thin depth of field isn't necessarily going to be practical, but even stopping down to a respectable f/2 is going give me a four-fold increase in brightness and the ability to hit action-stopping shutter speeds in lower light without having to crank up the ISO too high. Today I started off with a reasonable f/2.8 and a locked shutter speed of 1/1000 sec, and an ISO of only 250 was required. After looking at the images, I've got nothing to complain about so far; the focal length is looking like it's going to be great, and the lens has got that beautiful color retention and contrast you'd expect from one of Canon's L-series lenses.
"Dylan was back on his game of trying to one-up me with his Telemark turns, but I had my fat skis today, and boy were they the right tool for the dense snow."
There was certainly some variability in the snow due to areas affected by the wind and dense precipitation types, but the sheltered spots yielded some very nice turns. When we'd made it down to the boy's elevation we found that they had already put away their skins and were just about ready to go – that was a pleasant surprise. Dylan was back on his game of trying to one-up me with his Telemark turns, but I had my fat skis today, and boy were they the right tool for the dense snow. They made that beautifully stable platform that kept you up in the upper reaches of the powder, but still let you slice your way into it. I'd say the most consistently good powder turns were in the upper reaches where E and I began our descent, but there were some nice turns to be had lower down as well. Ty was unfortunately off his game a bit due to a sore leg, but Dylan had some beautiful carves and was working hard on fast transitions from turn to turn as he followed me into some of the best lines along the skier's left of the trail.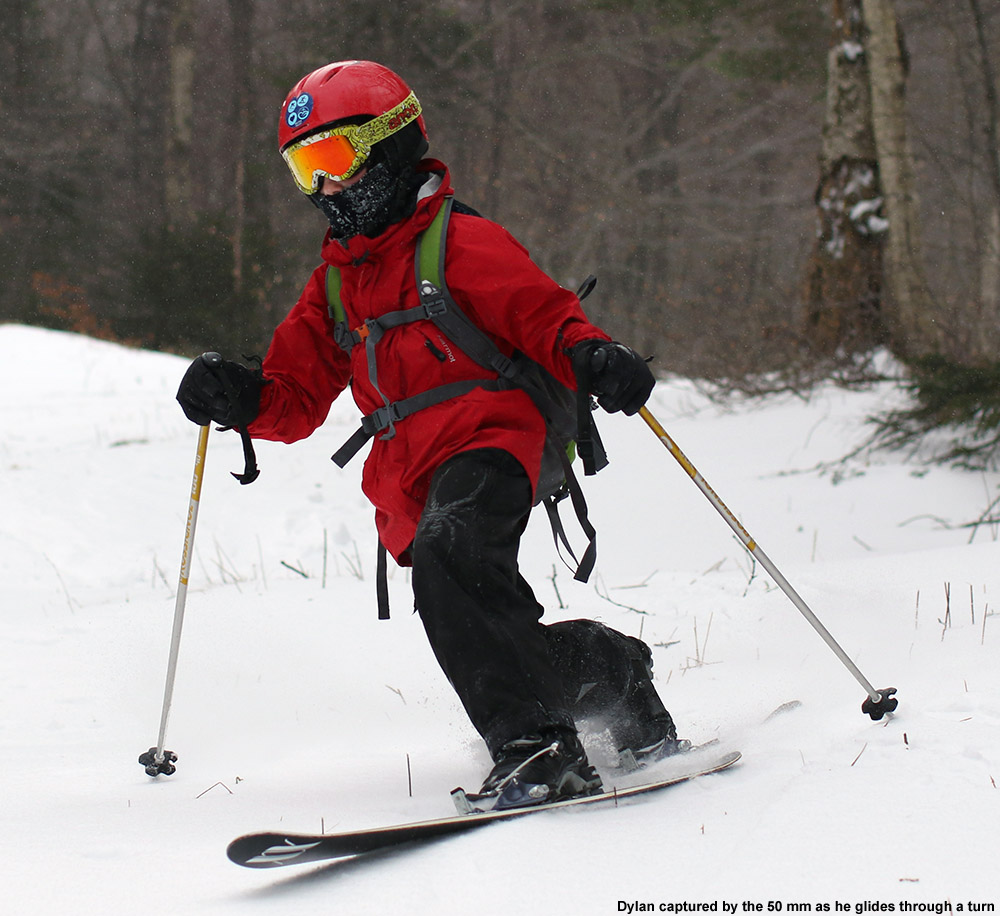 I'd heard that the James Moore Tavern was going to be open for business this weekend, but I guess they changed that plan because we found it closed, and instead headed for some food at the Bolton Valley Deli & Grocery. The resort was pretty quiet in general, with just a few skiers around hitting the slopes and enjoying the new snow with a bit of extra solitude. There was plenty of snow being made on the slopes of the main mountain today, and combined with this natural accumulation (which added up to over an inch of liquid even down at our place in the valley) they should be in good shape to handle lift-served levels of traffic on the terrain they open. We're getting into a much more wintry weather pattern now, so this storm should serve as a good base for the start of the season's snowpack.