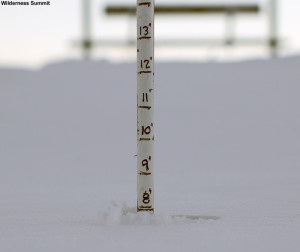 After Winter Storm Goliath last week, we moved into a pattern of snow showers with minor accumulations here and there ahead of a cold front that passed through the area yesterday. The approach of the cold front intensified the snowfall, resulting in snow totals of up to a foot in the Northern Greens. Unlike the dense snow from Winter Storm Goliath, these latest rounds of snow have been light and dry, with densities of 3-6% H2O based on my analyses. With this fluff on top of the dense snow, it was actually a setup for some great powder skiing. The temperature drop with the arctic cold front was notable, with highs expected to be only in the single digits F today, but I still wanted to get out for some turns and exercise, so I decided to go for a ski tour up at Bolton Valley this morning.
Despite temperatures running in the low single digits as expected, I was happy to find that there wasn't much wind as I ascended the Bolton Valley Access Road. I swung into the Timberline parking lot at 1,500' on my way up the road, and measured 4-5" of powder over the old base. Although likely serviceable for some turns on appropriate terrain, I know that the base snow is a bit thinner down at that elevation, so I continued on up to the Village at 2,100' to start my tour. It was right around 0 F up at the Village, and there was the occasional bit of breeze blowing things around, but it was nothing like that wind from last Tuesday during Winter Storm Goliath. I ascended via the designated Wilderness route, and for the first time this season it felt like it was worth a trip all the way to the Wilderness Summit. Indeed that was the case, as the new snow kept getting deeper and deeper, eventually reaching a point where even black diamond terrain was quite skiable. The person before me who had set the skin track up to the summit had descended via Bolton Outlaw, and the turns looked quite nice.
Here's the summary of the snow depths atop the old base up to the Wilderness Summit at various elevations, with the 500' value being from our house:
500': 2-3"
1,500': 4-5"
2,100': 5-6"
2,500': 6"
3,000': 7-8"
3,150': 8"
I can't say that all the snow up on the mountain was necessarily from the past 24 hours, but it's very easy to distinguish the new powder from the dense base snow that we picked up from Winter Storm Goliath.
Wanting to go for something with a bit more pitch lower down, I passed by Bolton Outlaw and headed to Upper Fanny Hill so that I could also ski its lower portion. Upper Fanny Hill has a healthy black diamond pitch, and in terms of coverage it's easily good to go now with the dense base covering up everything but the obvious major obstacles. I did find a good representative spot from which I could assess total snowpack depth at around 2,700', and found it to be 14-15". There's a lot of single-black terrain at appropriate elevations that I suspect is good to go for at least the touring crowd, although I'd say one more good shot of liquid equivalent (an inch or so) would be needed to get things going for lift-serviced levels of traffic. I'm sure the mountain could open some natural terrain consisting of mellow pitches at this point if they chose to.
"Upper Fanny Hill has a healthy black diamond pitch, and in terms of coverage it's easily good to go now with the dense base covering up everything but the obvious major obstacles"
In any event, the powder turns were excellent this morning, with my only complaint being that it was "slow snow" due to the very cold temperatures. Even with 115 mm fat skis keeping me afloat, I had to go steeper than the pitch of typical green terrain for a good ride – in that respect, Fanny Hill was a better choice than Lower Turnpike as I suspected. We've got a couple of potential storms coming up this weekend that may deliver something more like Winter Storm Goliath in terms of liquid equivalent. They probably won't deliver the type of Champlain Powder™ we had with this event, but if they play out well they could set up the base to open a good amount of natural snow terrain.