The forecast for today has looked dicey for a while. With a warm storm passing west of the area there was the chance for rain, but depending on the timing of the precipitation, one could encounter just warm temperatures and soft snow. As the forecast was refined it began to look like it would be rain for Sunday afternoon ski program at Stowe, and indeed it was pouring when we arrived at the mountain a bit before noon. With the intensity of the rain, and the addition of some wind, I wasn't planning to bring my group on the slopes, but fortunately by 1:00 PM when we assembled for program, the rain have moved out to reveal just cloudy skies.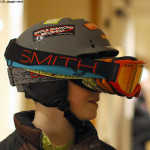 We had a small group today of me and the boys, along with Jack and Norris. There were few enough people that Ken and Luke were able to come along with us as additional chaperones. We started off with a run on the Meadows Quad, and found the snow nice and soft as expected. We stepped it up to the Sunny Spruce Quad and started to hit some wind near the top, but it was still pretty tame and didn't suggest that we needed to avoid going higher.
In general, the rain we'd experienced had been pretty light, so we decided to venture over to Mansfield and see what conditions were like on the big mountain. The Gondola was on wind hold, so we caught a ride on the Fourrunner Quad and encountered minimal wind until the last few hundred feet of the trip near the Octagon. Up there it was a wind driven rain, so we quickly started on our way down and headed to Liftline because it seemed to have a lot of fun contours left over from snowmaking whales. The snow was beautifully soft, which is certainly atypical of the usual conditions there, and the boys couldn't get over the "giant moguls the size of coach busses". Indeed you could have a lot of fun playing around on those huge features, using them as jumps, quarter pipes, spines, or whatever. The boys enjoyed it so much that we had to do it again the very next run.
Following that, the boys deemed it time for a break at the Octagon, so we went in and had a snack. It seems as though our timing was good, because while we were inside it seemed to be a real wind-driven tempest outside. That bout of rain had settled down significantly by the time we were ready for our next run, where we skied Nosedive as a good option to get us heading back toward the Spruce Peak Base. We'd ridden up with another skier who said that Nosedive was totally deserted, and groomed nice and smooth, so we were happy to pay it a visit to cruise a nice long run. Indeed below the upper switchbacks, Nosedive was just as he said, so with the boys hitting it at Mach 5 I decided that it was a good run to go for nonstop and really burn the legs. There was a quick pause at the junction with National, but other than that it was a great way to earn one's dinner. Crossing back on the Over Easy, Ken and I both agreed that in general the conditions today were such that you could just forget about the surface – your skis were simply going to hold in the soft snow and all you had to do was let them carve. There still was a spot or two with hard snow out there, and they would definitely catch you off guard when you were so used to just blithely cruising the slopes.
Back at Spruce Peak, Ken, Luke, and I did one more run on the Sunny Spruce Quad, but the boys kept lapping it until it shut down. In the lodge it sounded like we'd timed our break at the Octagon quite well, because it had rained pretty hard and soaked some folks during that period. This latest infusion of liquid into the snowpack is going to create a bomber base as temperatures cool down overnight, but surfaces are clearly going to be hard until we get enough snow for a resurfacing. We've got some snow chances this week however, so that should get things going in that direction.