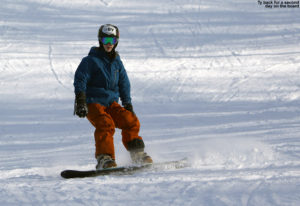 Since we found such great conditions on our outing at Bolton Valley yesterday evening, we decided to head back up for a little more skiing and riding today. Yesterday's storm had cleared out, so today it was mostly sunny skies with temperatures in the upper 20s F – a great December day to hit the slopes. Ty was psyched to get back on the snowboard, so E planned to work with him on his riding again today, while Dylan and I brought our Telemark skis to head off into the powder from the recent storm.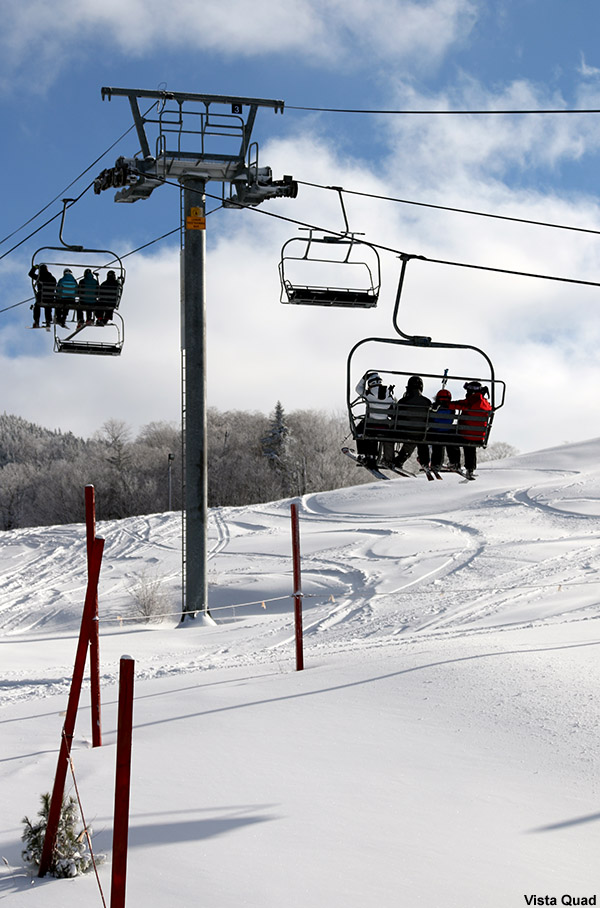 We headed up to the mountain around noontime, and the resort was hoppin' based on the number of cars in the Village lots. With the weather and proximity to the holiday period, that wasn't surprising. E and Ty stayed focused on the lower mountain terrain so that Ty could continue to work on his snowboard turns, and Dylan and I took the Vista Quad to see what conditions were like on the upper mountain and make our way over toward Wilderness. Skier traffic definitely had its effects on the snow surfaces, and we found lots of firm or icy areas on trails like Alta Vista and even lower-angle terrain like Sherman's Pass. Fortunately, Wilderness had seen much less traffic and the snow surfaces were excellent. There was plenty of packed powder, chowder, or even untracked powder on the lesser-used routes. We even made our way into the Wilderness Woods, and there was plenty of coverage and very little traffic. Snowpack is certainly not an issue at elevation – I probed the depths at around 2,800' over toward Wilderness and found as much as 30 inches. The consistency of the snowpack is interesting. There's definitely a refrozen layer in there from the warm storm we had over the weekend, but it many spots it's not really crusty, it's just thick and has bonded pretty nicely to the snow that fell more recently.
"There was plenty of packed powder, chowder, or even untracked powder on the lesser-used routes."
The snow from yesterday's storm is holding up well and keeping conditions great in minimal traffic areas of low and moderate-angle terrain, so seek those out if you're looking for soft turns. Our next winter storm is actually coming into the area tomorrow. It's similar to yesterday's event, with the potential for 2 to 4 inches in the higher elevations, but if it works out like that last one it should be another nice boost to the conditions.