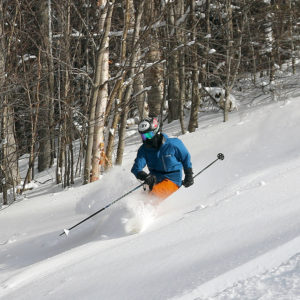 There weren't actually any major winter storms in the forecast for the Northern Greens this week. As it turns out, that forecast was actually 100% correct. We didn't get a major winter storm… we just got a major winter storm's worth of snow in short order. What the forecast for the end of the workweek indicated was a general westerly flow, with extra moisture supplied from the Great Lakes to give periods of snow showers in the area. Of course "snow showers" around here in the mountains can often mean several inches of snow, and this time around it certainly did.
"…it was so good that after two runs I ran to the rack on the car and swapped out my mid fats for my full fats"
Things really started to ramp up on Thursday night. My phone alerted me to the fact that the National Weather Service in Burlington had put out a Special Weather Statement for snow squalls. It wasn't long before eyewall sent along some pictures of the heavy snow falling in the Burlington area, and eventually, light snow at our house in Waterbury farther east turned into a 1 to 2-inch per hour maelstrom of flakes. In the morning, Powderfreak started reporting in from the Stowe area, and initial thoughts of at least 6" on Mt. Mansfield turned into 8", and quickly 9-10" at his 3,000' snow plot on the mountain. When adk sent along some of the shots taken during his usual morning wanderings on Mansfield, they revealed that however much snow had fallen, it was skiing deep – some awesome "over the shoulder Champlain powder" shenanigans were already taking place.
"By 2:00 P.M. he reported in with close to 17" of new snow…"
By midday, Powderfreak was reporting a foot of snow at Stowe, and Mother Nature was still pouring out the flakes over the spine at 1 to 2-inches per hour. By 2:00 P.M. he reported in with close to 17" of new snow, and followed up with his own collection of powdery pictures a bit later in the afternoon. At times, during the afternoon there were just huge snowflakes pouring from the sky, and Powderfreak sent along a bit of slow-motion video that he caught at Stowe's base area showing some of the huge aggregates. Folks quickly started talking about the day as "Big Friday", no doubt because it was likely the biggest powder Friday of the season thus far. When you start off with almost a foot of powder, and then tack on another half foot through the morning while you ski, you can't help but have a "Big Friday". I was too busy yesterday to get out for any skiing, but when I posted the Vermont snow reports yesterday evening, all the resorts in the Northern Greens along the spine were coming in with 15-17" of new snow, so a trip to Bolton Valley would definitely be in order.
From what I'd seen on Bolton's snow report, Timberline may not have been running yesterday, so Ty and I headed up to catch the planned 10:00 A.M. opening this morning. E planned to pick up Dylan from his overnight at Ivan's, then catch up with us later. From what we could tell, Timberline must have been closed or something, because aside from the strips of trails that had been groomed, there was a foot of untracked powder everywhere. Ty and I caught some great powder runs down Brandywine and Spell Binder. I figured the powder would be fine, albeit somewhat flat after a night of settling, but it was much more substantial and impressive than I'd expected – it was so good that after two runs I ran to the rack on the car and swapped out my mid fats for my full fats. For Ty, it was his first chance to try out the Rossignol Soul 7 skis he'd gotten at the beginning of the season, and they were the perfect tool for the day. It was a classic Timberline morning, with walk-on powder laps in great snow. We really haven't hit the threshold of snowpack required to get Timberline in gear until now, so it was a welcomed return.
Ty and I hit a couple more runs with a mix of on and off piste powder, then headed in for lunch at the Timberline Lodge to catch up with E. We also took the opportunity to try out the new "South of Solitude" (no doubt a nod to the "Adam's Solitude" trail) Mexican food offering that's been set up at the Timberline Base Lodge this season. Ty is nuts for burritos, so I knew it would be on our hit list when I saw it announced way back in the off season. The Mexican-themed food is really the only main option now down at Timberline, so you'll want to plan on that if you're dining down at that lodge. I got the chimichanga (always one of my favorites), and Ty got a burrito. They're made to order with your choice of various ingredients, and we found them good and filling!
After lunch we headed back out to get Mom some powder, and found her plenty of untracked lines in the Tattle Tale area. We took her into the Corner Pocket Glades, but discovered they're quite brushy with the current snowpack down at that elevation. A couple more feet of snow will take care of the issue, but they're probably going to need a trim in the off season. Ty and I headed back down to the house by around 1:00 P.M. and E stayed for another solo run on Twice as Nice where she had a good time making Tele turns in the mix of loose and packed snow.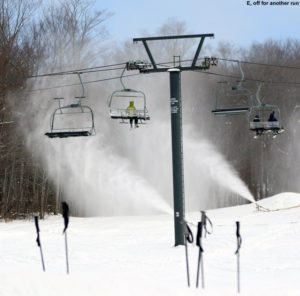 It's been a slow start down in the lower elevations like Timberline, but I'd say the resort is running at just about full tilt now, so get out and enjoy it. We've got another Alberta Clipper coming into the area tomorrow, and then a larger storm in the midweek period, so the weather pattern is staying active.