It's been two days since Stowe's "Big Friday" powder extravaganza, but we were definitely excited for the BJAMS ski program this afternoon knowing that the snow quality would be great and there would be plenty of untracked lines left in the lesser-used areas. The overall setup for the day looked quite comfortable, with temperatures around 30 F depending on elevation, and some snow from our next Alberta Clipper coming in near the end of the day.
We were with Nolan, Evan and Sophie again today, and with the snowpack now up to 76 inches at the Mt. Mansfield Stake, I knew I could continue to introduce them to more of Stowe's many off piste areas with no constraints. With that in mind, two areas that I had on my hit list were Angel Food and the Hazelton Zone. I started everyone off with Angel Food just in case folks were interested in going all the way down to Route 108, but the general consensus was to head back via the main traverse, so that's as low as we went. We followed that up with a run on Chin Clip where Nolan and I worked on bump technique with all the kids. Chin Clip is in classic top-to-bottom bump mode right now and serves as a great spot for bump practice. After a Midway Lodge break we hit a combination of Nosedive Glades and Hazelton Zone. The streams down in the Hazelton Zone are generally well covered, but perhaps a bit less filled in than some seasons due to some stronger melt flows back in December and January.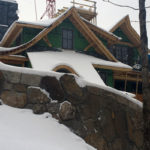 We headed back to Spruce as the end of the day approached, and folks generally got on their way a bit early with the Super Bowl coming up in the evening, but Dylan and I decided to head off together and catch another powder run. We explored from the Spruce side down to Route 108 and found some really fun lines. We didn't run into any other skiers, but we did find a group of ice climbers working on a small section of ice not far from the resort. We made our way back on one of the access roads to the houses they're building right along Route 108, and got to see an up-close view of one of the huge ones that's got some massive retaining walls built to accommodate the steep slopes down to the road. It can't really have much of a yard with the way the terrain is so steep, but it's got some amazing landscaping, architecture, and fantastic views of Mansfield.
Light snow began to hit the resort in the last hour or two of the day, and we've got snow accumulating here at the house this evening, so I'm sure they'll have a bit of fresh to report from the resort in the morning.