Although Bolton Valley was only reporting an inch of new snow in this morning's report, they've picked up more than a foot of snow in the past couple of days from Winter Storm Quinn. Combined with modest midweek skier traffic, that was already a recipe for some great skiing today, but even more snow was expected to arrive as the day wore on to further freshen up the slopes.
E and Dylan had some obligations in the morning, but Ty and I were free to ski and had plans to meet up with Stephen at the resort. We parked at Timberline, alerted Stephen with a text, and headed up the Timberline Quad for a run. Although I couldn't find any slopes that hadn't been thoroughly resurfaced at the resort during yesterday's outing, I can finally say that I found at least one today. I figured we could try a run on Lost Girlz, which would be a really tough test of the resurfacing. Unfortunately, the combination of dense evergreen canopy above, and very steep pitch were too much; the coverage just wasn't enough. So, we high tailed it over to Tattle Tale for a run. The snow was certainly good there, but in general it had seen much more traffic than usual because the Tattle Tale headwall was open.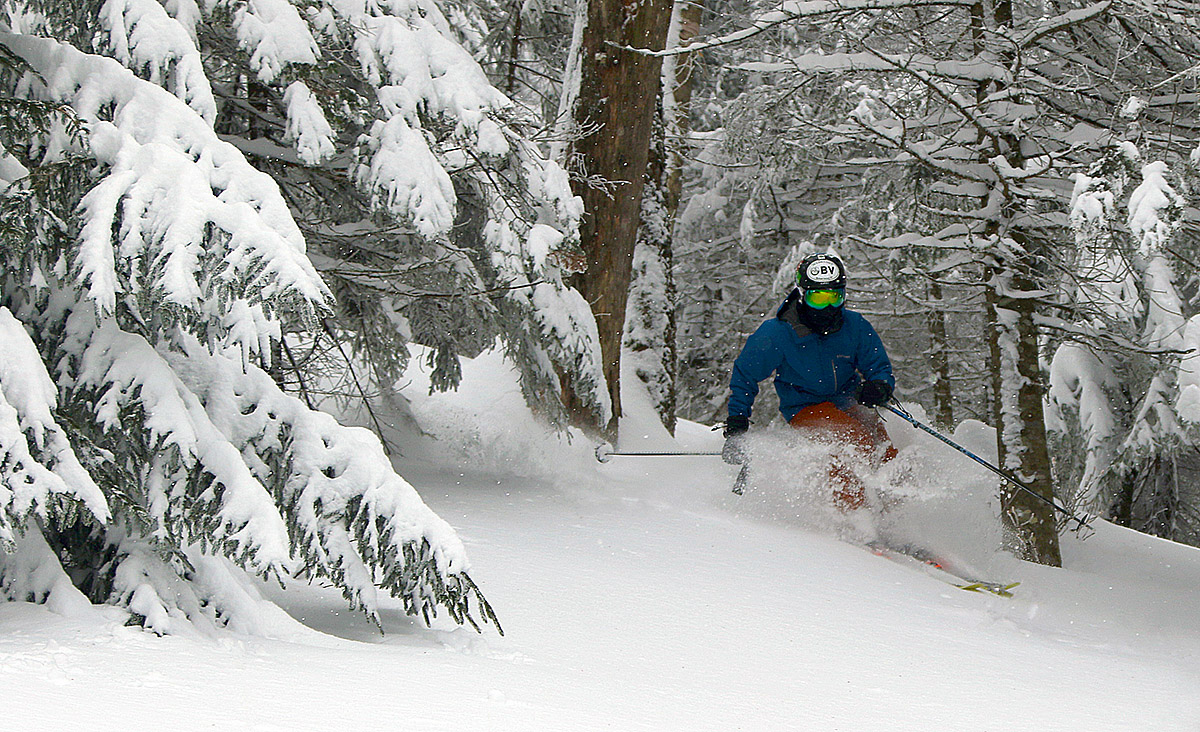 We met up with Stephen and did a full run of Tattle Tale so that we could really take in the headwall experience. It was a bit windblown at the very top, but coverage was quite good overall and it was definitely worth the trip.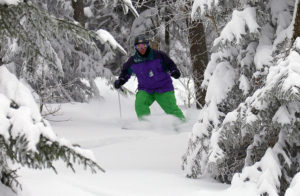 The rest of the morning was dedicated to getting Stephen some deep untracked powder, and that we delivered in spades with trips to The Crack, Villager Trees, and White Rabbit. Stephen seemed quite happy floating around on his fat alpine touring skis. The powder was easily a foot or more in untracked areas, and it was definitely delivering great turns with that right-side-up density gradient that Winter Storm Quinn had set up. In addition, new snowfall was ramping right up as we approached midday due to an incoming mountain upslope snow event that's developing in the area.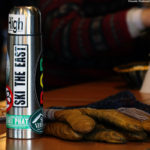 The three of us headed to Fireside Flatbread for some lunch, and E and Dylan joined us for a bite once they arrived at the resort. We all did a Cobrass/Five Corners run together before Stephen had to head back to pick up Johannes, and the rest of us finished off the day with some Timberline runs. E and Dylan had skied Spell Binder earlier and it got a great recommendation. It lived up to the expectations, especially that skier's left that Dylan enjoyed ripping up so much.
"As mentioned earlier, the big weather news in the coming days is the mountain upslope snow event that's poised to bring another hefty shot of snow to the area."
As mentioned earlier, the big weather news in the coming days is the mountain upslope snow event that's poised to bring another hefty shot of snow to the area. There's a vertically stacked low pressure sitting in Northern Maine, and that's typically a great setup for snowfall in the Northern Greens when the low pressure wraps in deep moisture from the Atlantic. You know there's some potential for continued snowfall when the National Weather Service in Burlington speaks about difficulty in finding the off switch for the snowfall in their forecast discussion:
"Another good problem to have is trying to find the off switch to the upslope snow machine…looks like a brief break develops Sunday afternoon into Monday…before more accumulating snowfall for Tuesday into Weds."