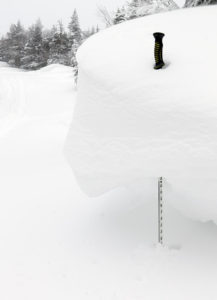 This week, the pace of winter storms and snowfall has slowed down a bit here in the Green Mountains compared to what we were seeing at the beginning of the month, but the weather models have been suggesting the chance for some of our classic upslope snow on the back side of this latest system. Scott put together a nice summary of the event's potential at Braatencast, and it certainly looked like we'd have a chance for some decent powder turns today.
With the intensity of the snowfall at our house yesterday evening, it was pretty clear the mountains would have at least a few inches of new snow, so I planned to catch some turns in the morning. When I checked the Bolton Valley snow report this morning, I was sort of surprised to see the mountain only reporting 4 inches of new snow, especially since we'd already picked up about 5 inches down at the house. I figured that they might have missed out on some of the snow because it was blowing downwind of the Green Mountain Spine, but after touring around at the resort today, I can say that definitely wasn't the case.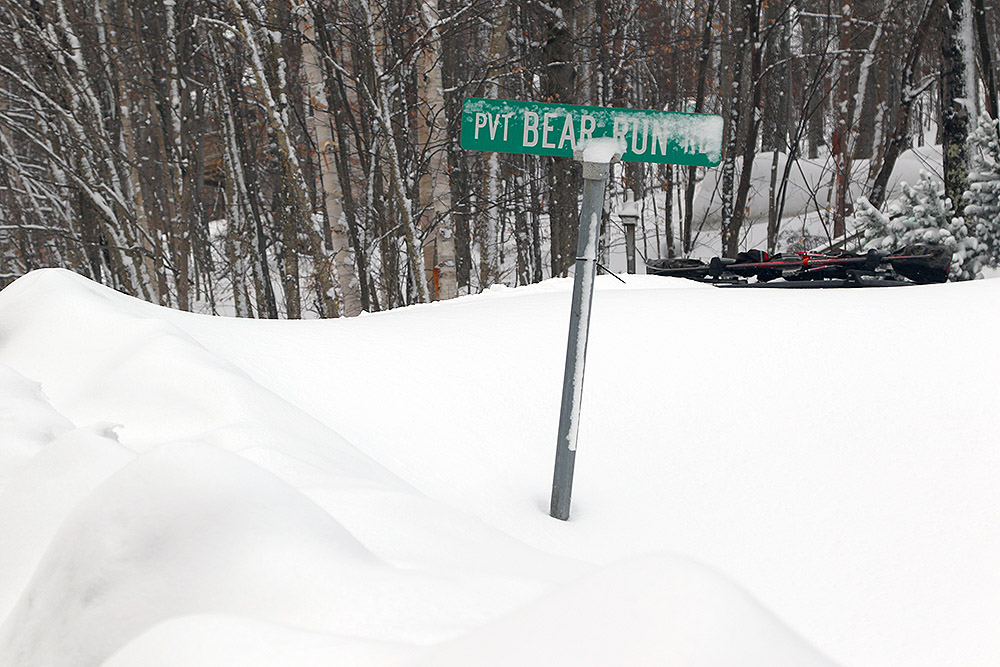 I was actually planing to earn some turns and ski tour a bit before the lifts opened at 9:00 A.M., but I was up there later than I'd hoped and it was right around opening time. That didn't matter too much though, because winds were fierce and the Vista Quad wasn't even running, so I just headed off to Wilderness for a tour as I'd initially planned.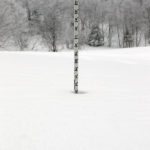 With those harsh winds, you'd be hard pressed to know that much snow fell at all from just looking around the base area parking lots. The accumulations were really patchy on a lot of snowbanks because the new snow had been ripped away and sent elsewhere. Once I got onto the skin track on Lower Turnpike and out of the wind though, the actual snow accumulations became apparent. Indeed I'd say that the 4 inches reported was a safe way to go in terms of being conservative, but aside from scoured areas, that definitely represented the low end of accumulations I encountered. Omitting the extremes of drifts and scoured areas, my checks revealed settled snow depths of 4 to 10 inches throughout my tour. That wasn't really elevation dependent, it seemed to just be a factor of how the snow sifted down in various areas. Drifts I found up around the 3,000' elevation were generally in the 2 to 3-foot range, though there were some bigger ones as well of course.
"Omitting the extremes of drifts and scoured areas, my checks revealed settled snow depths of 4 to 10 inches throughout my tour."
The skiing was obviously much different than what you would get from just four inches of fluff. With a number like that I'd be expecting to get good turns on only low angle terrain, but bottomless turns were pretty standard all the way up to about single black diamond pitch as long as the subsurface was smooth. I was on my 115 mm boards, but one could certainly still float on something skinnier. I'd say the storm must have put down a half inch of liquid or so on the mountain based on what I was skiing.
Upon reaching the Wilderness Summit on my tour, I started down Bolton Outlaw, thinking it would be pretty smooth from minimal early season traffic. It wasn't long before I realized that the Wilderness Lift has indeed run this season (I actually rode it with Stephen on opening day), so there's been enough skier traffic to produce some moguls. I was definitely hitting the subsurface with the steep pitch and moguls, so I quickly dove off into the Outlaw Woods, and the turns in there with a smooth subsurface turned out to be just about perfect. I was also able to get first tracks in the lower Wilderness Woods, and they were excellent as well. Getting into the trees was generally a great option because the snow had settled in there very nicely thanks to protection from the wind. I hung around for a couple of lift-served runs off the Snowflake Lift, and with the typical low traffic there I found plenty of untracked snow.
This was definitely an upslope snowfall event that was focused on the mountains. When I left the resort and headed west toward the Champlain Valley, snow accumulations really tapered off. There was just a bit of accumulation in the Richmond Village area and it seems like just a trace to nil in the Burlington area.
We've got a warmer weather system expected to affect the area at the end of the week, so the next chance for snow won't be until Saturday afternoon into the evening on the back side of that storm.