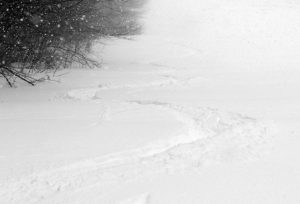 We're in the midst of a long, strung out winter storm system that began way back on Monday evening. The storm has already dropped 20 inches of snow down here at the house, and I'd expect some of the local resorts to report totals in the 30-inch range by tomorrow morning. With the northwest winds driving the moisture into the mountains, I wasn't surprised to find that the Vista Quad was on wind hold again this morning, just as it had been when Ty and I went out for some runs yesterday. I'd been contemplating both lift-served turns up at the main mountain, or touring down at Timberline, but the Vista Quad remaining on wind hold sealed the deal on some skinning at Timberline.
"Snow had settled in there nicely and I measured about 22 inches of surface snow atop the headwall."
I arrived at Timberline to find fairly heavy snowfall and not a lot of plowing. I had to wrap around to the far entrance to gain entry, but I plowed my way through 8 to 12 inches of snow in the Subaru and got over to the main parking area. There were a few cars present, but I was worried that I'd be breaking trail on the ascent when I found no signs of a skin track next to the Timberline Base Lodge. Fortunately, the lower areas of the track had just been erased by the winds, and once I got to Twice as Nice there was a great track in place.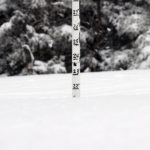 Winds had definitely affected the snow, but after looking around at the options by the Timberline Mid Station, I found that Spell Binder was entirely untracked and decided to the skier's right would offer up some great turns. Snow had settled in there nicely and I measured about 22 inches of surface snow atop the headwall. The turns were great, but even there the snow had been affected by the winds, so the powder wasn't quite as light and airy as it was in the trees. I'd popped into the trees briefly at the top of my ascent to take off my skins out of the wind, and it was dead calm in there with beautifully fluffy snow. The trees should really offer up some great skiing in the coming days!