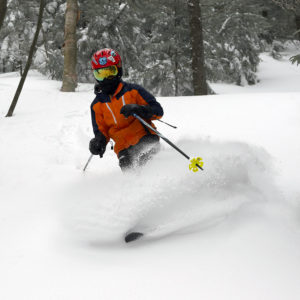 Well ahead of our current winter storm, the weather models were predicting it to be quite a whopper of a system. Multiple upper-level lows were expected to consolidate over the area, then a low pressure center would move up the coast and into Northern Maine before finally departing. Low pressure systems in that area are in a very sweet spot for our local mountains, since it's excellent positioning to allow Atlantic moisture to be grabbed and wrapped around to the north until it slams into the Green Mountain Spine. It wasn't surprising that storm totals were expected to approach 30 inches in the mountains. Indeed the local peaks got pounded with snow yesterday and overnight, and when the reports came in this morning, storm totals reached and even exceeded 30 inches.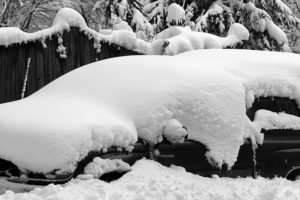 Our plan was to head up to Bolton for some turns today, but all the lifts were initially on wind hold except the Mighty Mite, so we packed Tele and alpine gear and were all set to skin at Timberline until they started running things. By midmorning though, the resort was announcing openings of the Mid Mountain Chair and the Timberline Quad, so we'd be able to start lift-served skiing once we got there. Unfortunately, they were still plowing out the Timberline parking lot and asking people to park up at the main base. This meant connecting over from the main base to ski Timberline, however the Snowflake Chair, which is the best way to connect over, was down for maintenance. This made for a big line at the Mid Mountain Chair, and that connection still requires a short hike anyway, so we made the hike up Villager to get over to Timberline. We chatted with a patroller coming down Villager, and he wasn't thrilled about our hike because it wasn't a designated uphill route, but he understood under the circumstances. He just reminded us to stay to side, well out of the way of any resort vehicles that might be using the trail. It's not really a long hike, but it did have the benefit that we got in some of our cardio today even though we didn't end up skinning.
"Indeed the local peaks got pounded with snow yesterday and overnight, and when the reports came in this morning, storm totals reached and even exceeded 30 inches."
In terms of the skiing, I'd say that the quantity of the new snow was absolutely there – it was a fantastic resurfacing and the groomed slopes were skiing as beautifully as one could imagine. The powder skiing definitely left something to be desired relative to our typical off piste conditions from a storm though. The snow was quite dense, and often windblown. We found that the trees offered some protection from the winds, so we typically got our highest quality turns there, but it was still Sierra Cement/Cascade Concrete type stuff and it would toss you around easily if you weren't on your game or as it became more chopped up. It actually looked like a nice day to be on a snowboard with the dense snow. The skiing was still awesome of course, but it was just surprising that the backside champagne never developed enough to set the impressively right-side-up turns we'd anticipated. Presumably the parameters for optimal snow growth didn't come together everywhere as the storm was finishing up
In related news, this storm pushed the snowpack at the Mt. Mansfield stake past 10 feet, so the snowpack in the mountains is in great shape as we continue into spring.