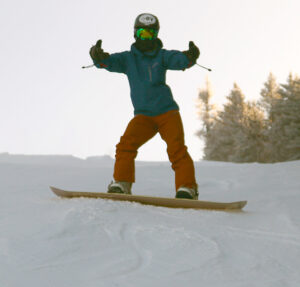 There hasn't been any new snow since our ski outing on Saturday, but Ty was planning to head up to the mountain for a bit of snowboarding with his friend Liam, so the rest of the family decided to get in a few runs as well.
I had to head into town for an errand in the morning, but I headed up to the mountain to meet everyone after that. Not seeing any of the family at the base of the lifts, I did a quick run off the Mid Mountain Chair and took the mellow Bear Run route to get a feel for the surfaces. The grooming had set the snow up pretty nicely – surfaces were moderately firm, but not bad thanks to relatively low skier traffic.
I'd checked my phone when I got off at Mid Mountain, and E and D let me know they were in the lodge, so I caught up with everyone there. We had snack, Liam and his family headed out, and our family decided to go for a run off Vista. E and D showed me where the best snow was located based on their previous runs, and it was in those areas where skiers had pushed the snow to edges. The spots provided some nice turns in a few inches of loose snow, and D really enjoyed carving it up on his new slalom skis.
Overall the mountain was very quiet today, presumably because folks know that it's really just groomed runs for now until we get more snow. Fireside Flatbread wasn't even open, but Bolton Valley will likely have everything going for the holiday week.
The next couple of weather systems (a smaller one on Friday, and then a larger one starting Sunday) in the flow have generally looked like mixed precipitation, but the back side of the second one seems to consistently show snow potential in the models. It's interesting that some models like the ECMWF and CMC show more wintry potential in that second system, but the BTV NWS doesn't even mention anything about that in their discussion, so I wouldn't lend it much credence at this point. For now, I'd certainly watch that Monday/Tuesday period for potential ski options depending on how the back side of the storm cycle plays out.