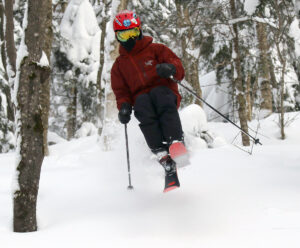 Today started out very cold. We bottomed out below -15 F here at the house, so nobody was really in a rush to get out skiing this morning. Last Saturday, Dylan and I skied in temperatures around 0 F to catch the fresh snow from Winter Storm Kade, but today we took our sweet time and waited well into the afternoon when temperatures were predicted to be up around 20 F.
It was a bit after 3:00 P.M. when we arrived up at the Village, and we were able to grab a parking spot in the first tier and load right on the Vista Quad. We headed toward Maria's for some powder, and a chance for Dylan to try out his new Rossignol Sky 7 skis for the first time. His skis were supposed to arrive last weekend, but in a nice piece of irony they were delayed because of Winter Storm Kade.
"We probed total powder depths above the old base and generally found 20 to 22 inches."
In any event, Dylan's skis were a great tool for today's snow. The powder currently consists of snow from Winter Storm Kade last weekend, topped off with snow from four additional storms that included Winter Storm Lamont on Sunday into Monday, and Winter Storm Mabel that just hit the area at the end of the week. We probed total powder depths above the old base and generally found 20 to 22 inches. There was a breakable crust present within the snow from some mixed precipitation that occurred during Winter Storm Mabel. In some areas the crust was absent altogether, and in others it was anywhere from 2 to 8 inches down in the snowpack. The presence and depth of the crust depended on things like aspect, wind effects, and protection from that part or the storm by trees or other terrain features.
Overall the powder skiing was good, although of course not up to the level of last Saturday with the fresh snow from Winter Storm Kade. The crust is thin enough that it's breakable, and buried enough that it's inconsequential in many spots, but it definitely makes the powder skiing variable enough that you have to be on your toes. Putting down some additional fresh snow and burying the crust deeper will definitely help the off piste conditions, so we'll have to see how the expected storms this next week play out.