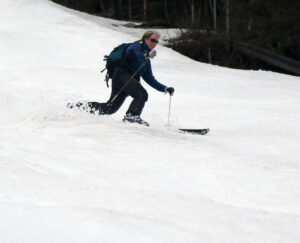 Our most recent winter storm cycle was Winter Storm Quincy, which took place over a week ago. It brought a couple days of good powder, and D and I were able to get out for some fun turns, but since then we've sort of been back in the spring weather doldrums. We haven't had another significant storm, and it hasn't really been warm enough to soften up the slopes.
Some warmer, sunnier weather moved into the area today though, with temperatures in the 50s F, so the family headed up to Bolton Valley for a quick tour and some soft spring turns. Timberline still has plenty of continuous lines, so we toured from the Timberline Base, and up to the Timberline Mid Station. Just to the right of the base of the Timberline Quad there's a thin line of snow that supports skinning right from the base, but that will probably melt out in a couple more days of warm weather. There's solid coverage on the climber's left of the quad base though, so that will probably be fine for ascents and descents for a while.
Ty cruised right up the hill on the ascent, with Dylan not too far behind, so the two of them had the chance to hang out at the top for a bit before I arrived. One of the chairs of the quad is nicely positioned at the mid station to make a convenient bench, so the boys really enjoyed hanging out there and enjoying the mountain views.
Showtime is doing the best with respect to coverage thanks to additional manmade snow, so we made our descent there. The snow was nice spring corn that had softened on Bolton's usual afternoon sun, so the turns were quite good.
We only saw a couple of other cars in the parking lot, although it was fairly late in the afternoon, so most people had probably gotten their turns in earlier.
It looks like the weather is going to cool back down as we head into the latter part of this coming week, so we may be looking at more fresh snow coming to the mountains. We'll see what happens, but I know everyone would be psyched to get out for some more powder.