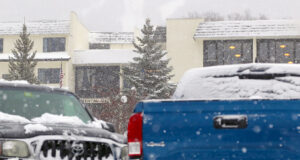 With the influx of snow that the area has seen from Winter Storm John since yesterday, the snow conditions improved dramatically this weekend. Based on the liquid equivalent we picked up here at the house, I bet the local mountains picked up something in the range of ¾" of liquid, which is a game-changer relative to where things were before.
On Saturday morning I decided to go for my first lift-served turns of the season at Bolton Valley. Only the main mountain is open at this point, since coverage is still too thin down at the lower elevations of Timberline. It was snowing steadily with some big flakes when I arrived at the mountain, and I found about 4 to 5 inches of new accumulation in the Village areas at 2,000'. The snowfall tapered off to light snow during the midmorning period, but really picked up to some heavy inch/hr snowfall when I was leaving a bit before noon. That was when the back side of the storm was coming through, and the wind jumped up a bit there, but prior to that the weather was fantastic with temperatures just a bit below freezing and no wind. There was obviously some surface snow in place from previous systems because I was generally finding powder depths of 6-9" at the 2,400' level. Skiing was good, with enough snow to resurface low to moderate angle slopes, and listening to skiers and riders on that terrain you'd hear absolutely nothing. On higher angle slopes you could still hear contact with the old base snow, so it was obvious that ¾" of liquid can only do so much with holiday levels of skier traffic.
The conditions had seen such an uptick relative to where they've been the past week that I had to head back up for a tour on Wilderness in the afternoon!