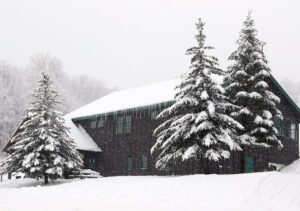 With Winter Storm Malcolm moving into the area early this morning, there was a major PNW vibe around in the valley – we had huge, moisture-laden flakes falling all morning at the house, and driving through just 2-3" of unplowed snow on the road felt like you were moving through concrete. It reminded me of being back at Snoqualmie Pass/Alpental.
I gave Mother Nature some time to continue putting down the new snow, then headed up to the mountain for a session this afternoon. I'd brought gear for both skinning and lift-served skiing, unsure about whether or not there would be COVID-19-related lift queues. When I reached the Timberline Base and saw the Timberline Quad running for the first time this season with virtually nobody around, it was an easy decision to opt for lift-served skiing. There were actually no queues at any of the lifts this afternoon, and it was walk-up all the time with numerous empty chairs, so presumably the opening of more terrain took care of any issues that had been creating backups.
In terms of the snow, it was unquestionably dense down at 1,500'. I was actually happy with my choice to go with lift-served turns because I appreciated having some packed snow in places and the ability to wander off to the sides into the powder as desired. The powder would have been a bit easier on my fat skis, but on my midfat Teles it was definitely a workout staying for long periods in the deep, dense untracked snow. I was happy for some quick reprieves on the groomed areas. Groomed terrain was skiing very nicely – the packed snow was certainly dense, but not to the level of that slick, wet pack snow that can get rather grabby. The snow got substantially drier with elevation – in the top 500' of vertical, say from the Vista Summit on down to 2,600' or 2,700', the snow was in a totally different league relative to the base. Jumping into untracked powder made for smooth, easy turns; the snow had just lost enough density that it just wasn't pushing me around on my midfat Teles. Down below those elevations, the powder began to get a bit denser, but you could definitely give yourself and extra margin of comfort on a pair of alpine fat skis, or especially a snowboard.
As of this afternoon's additional snow from the storm, we'd picked up 1.09" of liquid equivalent down at the house, so the mountains must have had at least that much, and whatever they did get, it represented a major resurfacing of the slopes. Ropes were dropping all over the place, and within one trip over to the main mountain, I came back to find that they'd opened up Tattle Tale, apparently even the steep headwall section, which speaks to how meaty this snow was. They even had Spillway open on all natural snow, and that's a steep minefield of boulders and stumps. I figured people were just poaching it until I saw the rope opened at the top.
In terms of the depth of new snow that fell from Winter Storm Malcolm, it was difficult to tell because there was already some decent loose snow below this new stuff, and there hasn't been a major thaw in quite a while to consolidate the base. When I got off the top of the Timberline Quad at the Timberline Summit, I stuck in my measurement pole and it went up to 18". This represented the entire snowpack at that elevation from what I could tell. Based on occasional probing around and measuring during the afternoon, I came to the conclusion that there must have been at least 8" that had fallen up high, and the resort's afternoon report says 8" at elevation, so that makes sense.