With Bolton Valley reporting 8" in the past 24 hours due to various rounds of snow from Winter Storm Peggy, we headed up for a session at the opening of Timberline this morning. It was bright and sunny when we got there, but before long it clouded up and flakes started to appear. For the rest of the morning it was generally cloudy with a bit of snow and the occasional appearance of the sun.
My depth checks in the 1,500' – 2,500' range revealed new snow depths in the 6-9" range, which was definitely consistent with the snow report. The powder was pretty dry (3-5% H2O) so the new stuff alone wasn't quite bottomless on piste on steep terrain, but it skied really well.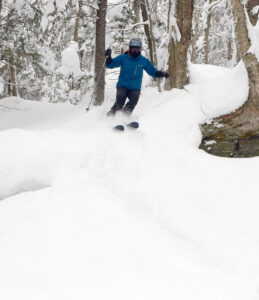 We ended up spending the entire morning and into the early afternoon at Timberline, starting off with powder runs on the trails, and gradually moving into the trees. We hit some favorites that we had yet visited this season, like the KP Glades, Lost Girlz, and the Corner Pocket Glades. Anywhere off piste that hasn't seen heavy traffic, the new snow just bolstered the depth of that already bottomless snowpack that's out there.