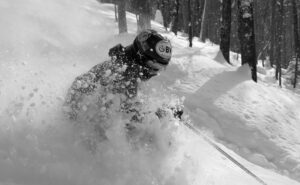 While we haven't really had any of those stretches this season where snowfall has really gone off the hook by Northern Greens standards, what we've had in the past few weeks has been a nice steady pace of snowfall from bread and butter systems intermixed with the occasional larger synoptic storm. And that snowfall has indeed been steady – since the start of the calendar year at our house, we've only had four days without snowfall. Indeed we also haven't seen any massive blockbuster storm cycles in the area yet this season, but in many ways, it's felt like a fairly classic Northern Greens winter period since about the start of the calendar year. Part of the climatology here is getting those little surprises throughout the season, such as Winter Storm Roland dropping over 8 inches here, when only about half that was expected. It's good to take advantage of Mother Nature's surprises when you get the chance.
To that point, I certainly hadn't planned to ski today. But, with the way it was dumping huge flakes here at the house this morning, and after watching it snow 2.5" in an hour, I started to reconsider. I checked out the Bolton Valley Base Area Webcam, saw just a whiteout of massive flakes, and that pretty much sealed the deal. I told the boys that if we they didn't have any meetings this morning, we definitely needed to head up to the mountain for some turns. And so we did.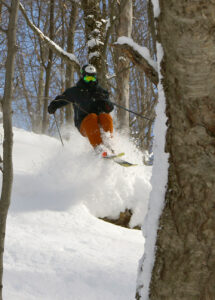 We just stuck to Timberline, and skier traffic was low enough that there really wasn't any need to go anywhere else. We started with a run on Adam's Solitude, but spent the rest of the day in Doug's Woods and Doug's Solitude. Bolton is reporting 12" in the past 48 hours, but we were typically finding 12-16" off piste in the areas we were skiing. The snow was absolute champagne, definitely in line with the ~2% H2O I'd gotten from my previous three snow analyses at the house, so it skied like a dream. The boys had fun throwing themselves off just about any stump, bump, log, tree, ledged, or cliff they found. And, Mother Nature even decided to treat us with some sun during the morning to let us get a bit more pop out of the photos from the session.