Today our plan was to play Tennis with Dylan in the afternoon, but that plan fell through once he realized that he had to work. So, moving on from that option I decided to get some exercise by heading back up to Bolton to catch that run on Hard Luck that I'd missed on Friday.
Temperatures were definitely a bit cooler today than yesterday, with more clouds around, but it was still plenty warm to keep the snow soft. Hard Luck is nearly continuous except for a small area near the top, but from there on down it has solid coverage that runs right into Sherman's. There's still top-to-bottom coverage on the main mountain via the usual Sherman's route to Beech Seal, but it's getting close to a gap near the middle of Beech Seal. So, I don't think coverage on the main mountain will be continuous through next weekend with these reasonably warm temperatures in the forecast over the next few days, unless we get a substantial spring snowstorm down the road to cover up the bare areas.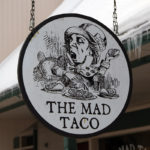 On a whim, I put in a call to The Mad Taco Bolton to place an order when I was done with my tour. I figured they would be closed, since lift-service at the resort ended last weekend, but they were open! I talked with the associate for a while when I placed my order, and this was their last day of business for a few weeks while they do some remodeling, but they'll be opening back up in May for the summer season. So, it looks like they're planning to run year-round up in the Village supplying great Mexican food for the area!