From several days out, the weather models suggested that Winter Storm Landon was going to target Northern New England with more than a foot of snow. Unlike last weekend's Winter Storm Kenan, this wasn't a coastal system that needed to line up perfectly and might affect only a small geographical area; this was a large overrunning system stretching up all the way from the Southwest, through the Midwest, and into the Northeast with an almost nation-wide swath of wintry precipitation. By Wednesday, it was obvious that Northern Vermont was on track for a solid snowfall, and late in the afternoon, I got a quick text from Dave that led to the following exchange:
Dave: "Any thoughts on this storm?"
Jay: "I would say 12"+ is a good bet for around here."
With that, the plan was on. Dave was heading to Killington to ski on Thursday, and then he'd make his way up to our place to stay Thursday night, with the hope of being able to get some turns together on Friday. This was exciting, because Dave's schedule and obligations haven't really lined up for a visit in a while. A search on our website revealed that his last trip up for skiing was in 2018 when we skied Stowe on March 14th and Bolton Valley on March 15th.
When Dave got to our house late yesterday afternoon, he said that he'd almost bailed on skiing at Killington when he arrived there in the morning to find it raining. Thankfully, it was much more wintry up high on the mountain, and the conditions just got better as the day went on. He met up with another guy that was skiing solo, and ended up having a fantastic time roaming around and even getting some video shots with the guy's camera.
"At our site, I recorded 6.0 inches of new snow from 6:00 P.M. to 12:00 A.M., and then another 5.2 inches between 12:00 A.M. and 6:00 A.M. Our storm total at that point even down at the house was over a foot of new snow, and 1.4 inches of liquid equivalent, so it was clear that the storm was putting down a very solid resurfacing of the slopes."
There were no concerns about rain for Friday at Bolton though. Here in the Northern Greens, it had already been snowing at elevation for a while, and Stowe had flipped to snow even at the base elevations as of midmorning yesterday. The precipitation had switched to snow even at our house in the Winooski Valley by midday. When Powderfreak sent in a report with Stowe's accumulations at the end of the day, he said there was 5" in the higher elevations, 3.5" at the top of the Lookout Double, and an inch at the base elevations. My 6:00 P.M. observations at our house revealed that we'd picked up an inch of snow even down at the 500-foot elevation. The snow just continued to pick up as the evening wore on. Dylan was up at Bolton for some night skiing yesterday evening, and he said that his drive down the access road was hairy – with a number of cars off the road. That was some great winter driving experience for him though. From his report, it was obvious that the storm meant business, and with everyone in the north over to 100% snow by that point, the only things to wonder about were snow density and just how much we were going to get.
As expected, the snowfall really turned on around here yesterday evening. At our site, I recorded 6.0 inches of new snow from 6:00 P.M. to 12:00 A.M., and then another 5.2 inches between 12:00 A.M. and 6:00 A.M. Our storm total at that point even down at the house was over a foot of new snow, and 1.4 inches of liquid equivalent, so it was clear that the storm was putting down a very solid resurfacing of the slopes. Between getting gear together, snow blowing the driveway, solidifying Dave's ski plans, getting his ticket, and everything else that goes into a storm morning, it was quite busy. But we easily made it to the Vista Quad lineup for the planned 9:00 A.M. opening.
It was chilly out there on the mountain, with temperatures probably in the 10 F range. We were happy to discover that winds weren't strong at all though, so there were no wind holds, and the lifts seemed to start right up at their planned times aside from the usual smaller delays of getting the later lifts rolling on a storm day. We were all set to head over toward Timberline on our second run, but we ran into a patroller on Cobrass who said that it wasn't quite ready yet, so we gave it one more run and the timing worked out beautifully.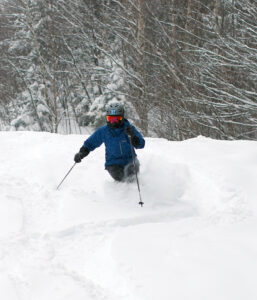 The new snow was undoubtedly a solid resurfacing of the entire mountain at all elevations. Indeed, that 1.4 inches of liquid equivalent that we'd picked up at our house meant that the resort had at least that much, and you could feel it by the girth of the massive cushion beneath your skis. The snow had started out quite dense at the very initial stages of the storm as temperatures were still coming down, and then it seemed to settle down to roughly medium-weight powder for the bulk of the overnight accumulations. My 6:00 A.M. analyses revealed snow density at 9.4% H2O, which is solidly in that medium-weight powder category. There hadn't really been any fluff at that point to set up an impressively right-side-up powder accumulation, so you were generally riding in that medium weight snow, and we found the best skiing on steeper terrain. Low angle slopes were just a bit on the slow side with the available snow density. Thankfully, with that 1 to 2 inches of liquid equivalent down, it was game on for even the steepest terrain, and steep areas that we hit such as Vermont 200, the Spell Binder headwall, and the Tattle Tale headwall all delivered. You could attack those pitches as aggressively as you wanted, without concern. Another great example of the resurfacing was hitting Cobrass on our second run to find that even the usual ledges and ice bulges were covered. Initially, I'd gone in with the usual strategy of negotiating those obstacles, but quickly saw that they were irrelevant, and I was able to ski like they weren't even there. That's the sign of a solid resurfacing. With depth checks, I was generally finding settled accumulations of about a foot at that stage of the storm, which I think was right in line with what the resort had noted in their morning report.
We actually skied with an associate from PeakRankings.com who was getting info for his report on Bolton Valley, so we showed him around for a few runs. His ski jacket has something like "WE RANK PEAKS" written in huge letters on the back, which quickly gets your attention and lets you know what he's up to. We hooked up with him just as we were finally planning to head over to Timberline, so we showed him the Maria's route to get there.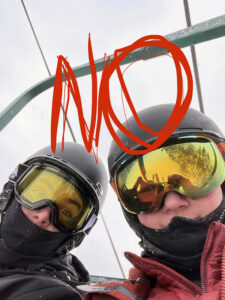 I had to head out around midday, but Dave and E did eventually catch up with Dylan and his friends out on the mountain for some skiing. When E texted to see if the boys were on the mountain, they couldn't help but have some fun by replying with a picture saying "NO" that was an obvious shot of them riding the lift. The boys waited at the Vista Summit for the others to catch up, which shows a nice touch of class on a powder day. Dave and E said they had a great time that afternoon, and E even had a some sense of where they were going on the mountain. She recalled some trail names, and was remembering the character of many trails enough to give people an idea of what they were going to ski.
I have to give the boys a hard time for not getting out right at the start of the morning, but Dylan's friend Parker did pull off a classic dual resort visit to really maximize a powder day. He headed to Stowe first thing for the typical "hour of power", where you can get some good fresh runs before it's all tracked up and the lift queues grow, and then he headed to low-key Bolton where you can enjoy powder for the rest of the day in peace. I'd say he's wise beyond his years.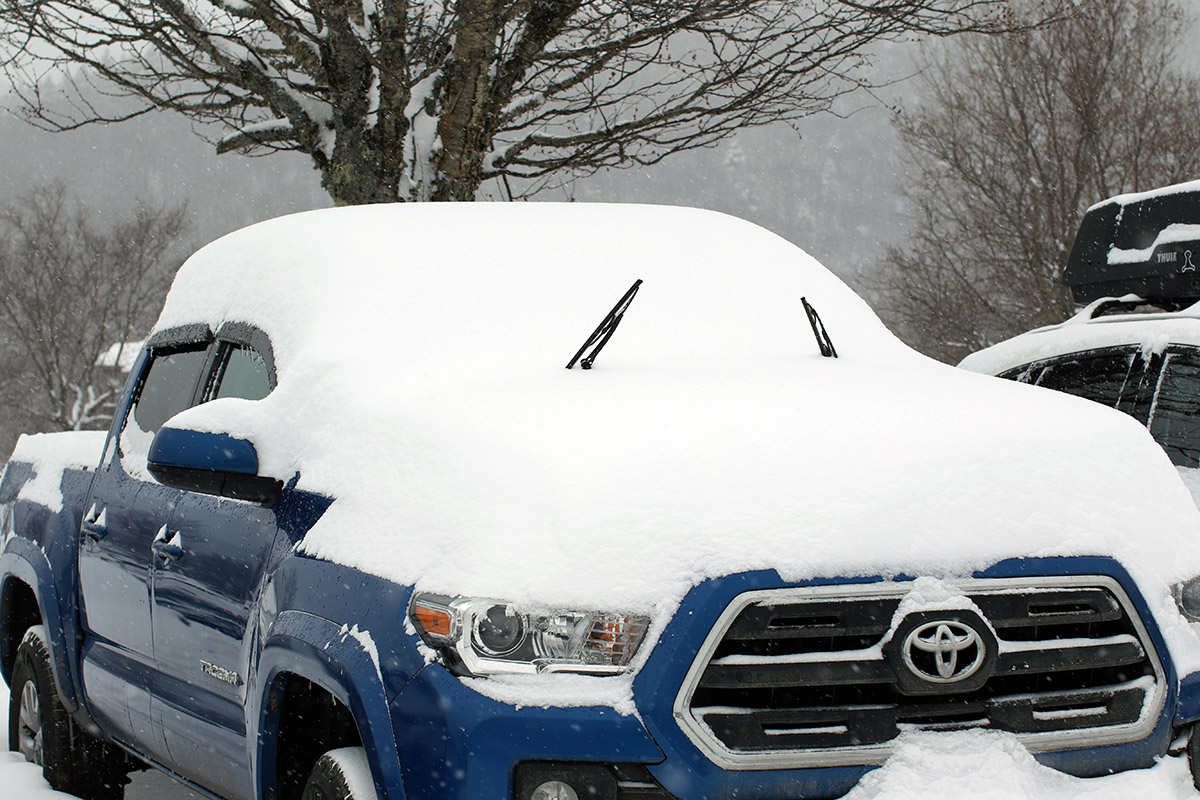 Dave said that his drive home to Boston was fine on I-89, but I-93 was tough with lots of people off the road. Those areas to the south apparently got a lot of mixed precipitation and it was quite a mess. We were all happy to be well north of that stuff up here.