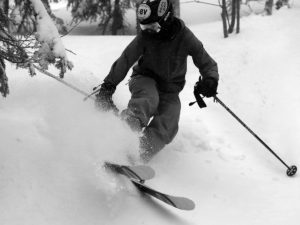 A long, strung out winter storm system has been affecting our area for the past couple of days. It started out with some snow from a warm front overnight into yesterday morning, then there was a bit of a lull, and today the main part of the storm came through. Ty was off from school today due to the storm, and I decided to work at home, so we had a chance to head up to the mountain in the afternoon for a few turns.
The first part of this storm had some mixed precipitation, so we were really in no rush to jump out on the slopes early, instead deciding to let some of the new snow build up during the day. Today's snow here at the house was quite dense, coming in in the 10-13% H2O range based on my analyses, so while it wasn't going to be the ultimate in fluffy powder, it certainly had the potential to further resurface the slopes.
"I did some depth checks in the trees and frequently found surface snow depths of 12 to 15 inches."
While working today, I watched the Bolton Valley Live Webcam, and saw that the Vista Quad stopped running at some point around midday. I figured it was on wind hold, but Mid Mountain and Snowflake were still running, so we still headed up for a few lower mountain runs. The wind was certainly whipping around up there, but most of the lower mountain areas were reasonably sheltered, and the trees were especially nice because it seemed like a lot of snow had settled in there. I did some depth checks in the trees and frequently found surface snow depths of 12 to 15 inches. I'm sure some of that is from a previous storm or two, but as their afternoon report, the resort was indicating 7 inches of snow and overall there have been some healthy, dense accumulations from these past couple events. Indeed we found the new snow on the mountain to be dense as my analyses had suggested, but boy did it constitute a resurfacing of the slopes. If you were on the new snow there was no touching the subsurface, and you typically sunk into the powder just a few inches anyway because of the density.
As of about 9:30 P.M. this evening, the flakes falling have become much larger down here at the house, so the snow is getting fluffier. This drier snow on top of the dense stuff from earlier today is just what we like – the perfect right-side-up deposition for those powder turns.