Winter storm "Pax" affected Northern Vermont on Thursday and Friday this week, dropping up to 29 inches of snow on the ski resorts along the spine of the Green Mountains.  We haven't had much in the way of large storm cycles up in the Northern Greens this season, so this was our largest to date, and it showed some interesting distributions with respect to snowfall density.  Some areas received extensive periods of large, fluffy flakes, and other locales had some very fine flakes that fell as very dense snow.  For instance, the first round of the storm at our location on Thursday night delivered some very dense, 13% H2O snow.  That's actually just what the snowpack needed for building.  Whether the snow was dense or not, in the end, the mountains received well over an inch of liquid, and that liquid equivalent was really what was necessary to bolster the natural snowpack.  It was enough snow that Bolton Valley had finally opened all the terrain at Timberline, and we were psyched because that had been an inordinately long time coming this season.
"Winter storm "Pax" affected
Northern Vermont on Thursday
and Friday this week, dropping
up to 29 inches of snow on the
ski resorts along the spine of the
Green Mountains."
We decided to get a relatively early start on the mountain today, and even though we weren't expecting the Timberline Quad to open until 10:00 A.M., when we drove by at 9:30 A.M. it was already running, so we pulled right in and parked.  There were a couple of dozen cars in the lot, but it was still fairly quiet.  That was good, because being a holiday weekend, having the biggest storm of the season just hit, and then having great weather to enjoy it, we were worried about how many people were going to be out.  It was business as usual though at Timberline, with no lift queue and just a small group of people out to hit the terrain.
During our first lift ride we could see that the snow looked quite good, and there had definitely been a major resurfacing of the slopes.  People had skied the area yesterday, so it wasn't entirely fresh snow, but there were plenty of untracked areas, and a few more inches had fallen last night to cover even areas that had seen traffic.  With almost two feet of new snow having fallen at Bolton Valley, we planned on hitting a lot of the steep off piste terrain that we'd yet to ski this season, so E decided to go with her fat alpine skis instead of Telemark skis.  The boys had their powder skis, and I had my fat Teles, so we were ready to tackle whatever Pax had delivered.  We had really great weather to enjoy the snow too – the temperatures were in the upper 20s F, there was no wind, and a little snow associated with our next storm system was floating through the air and adding a fresh coating to the slopes.
"The only complaint I'd
add about the snow is
that it was bit upside
down, with some dry
stuff underneath a
layer of denser snow
on top."
Everyone took turns choosing trails, and E kicked things off with Twice as Nice.  That turned out be a great idea for a warm up.  The trail was generally tracked, with some untracked snow off to the sides, but there had been such a thorough resurfacing with all the dense snow that it hardly mattered where you went.  I was really feeling my AMPerages bust through the heavy snow with gusto, yet at the same time they were light and quick – I was really happy with the combination of skis and snow because everything just seemed to flow.  On our next ride up the quad, E commented on how we'd had the entire trail to ourselves for the whole run, except for a ski patroller who seemed to enjoy watching us from the side and generally surveilling the lay of the land in a very casual way.  Next up was Dylan's choice, which was Adam's Solitude.  I'm glad Dylan chose that early, because while the snow was quite good, a few bare spots were already starting to make their presence known.  It was easy to see that once the trail received a bunch of traffic, the skiing wasn't going to be quite as free and easy as what we were experiencing.  With the rugged terrain present on Adam's Solitude, it's going to take another couple synoptic storms to really get it in shape for lots of skier traffic.  The roller coaster section that the boys love at the bottom is already in great shape though, and they had a blast.  I really enjoyed mixing in Telemark and alpine turns as the terrain dictated, and today was one of those days where mixing both techniques on the fly just came rather easily.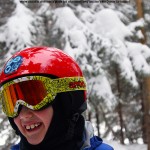 It was off to the main mountain next, where in order to add some fun in getting over to the base of Wilderness, we did a run off the Mid Mountain Chair.  I treated E and the boys to a run through Glades Right and Nixon's; both areas had great snow and coverage, and the boys were impressed.  Wilderness was finally running today, and I led E and the boys on an attempted run through Super Snow Hole, but it was tough to find the entrance and we had to settle for regular Snow Hole.  There had been very little traffic on Snow Hole, and it could actually use a bit more people venturing in to pack it down a bit with the generous depths of the recent snows.  Ty called for a run on Turnpike, with an entry via Cougar, which the boys said they always seem to ski during the Olympics.  They made sure to practice their Olympic victory "raising of the arms" at the bottom.
Since the boys had really earned some lunch after the morning's adventures, especially the off piste venturing around in the deep powder in the Snow Hole area, we got a pie from Fireside Flatbread and some appetizers from the downstairs cafeteria.  The lodge was definitely packed, and that's not surprising on a Saturday of a holiday weekend.
The afternoon started with a run through the "trifecta" of Buena Vista, Dynamite, and Sleepy Hollow.  The snow was excellent, and traffic had been fairly light.  Dylan requested a run through the Progression Park, and then we headed back toward Timberline to finish off the day.  I was amazed that we'd seen Upper Tattle Tale open, and from below it looked somewhat scoured, but Lower Tattle Tale was really good.  The Twice as Nice Glades were OK, but still a bit bony, and I'd actually say that they are due for a round of brush clearing.  I took everyone down Quintessential, but it definitely needs a couple more storms to really be ready.
You really couldn't ask for a much better day today, with such great fresh snow and weather.  The only complaint I'd add about the snow is that it was bit upside down, with some dry stuff underneath a layer of denser snow on top.  At some point there was some dry fluff in there, and then some snow with smaller flake fell on top.  You'd sometimes find areas of untracked powder where you could drop right through that middle layer.  The fat skis were definitely the tools to help with that though, doing a great job of keeping you floating vs. sinking under the topmost layers of dense snow.  In terms of base, essentially everything is skiable, but I'd like to see a couple more synoptic storms to get the base wall to wall on all the steepest and most rugged natural terrain.  Being mid February, that should really be expected by this point, but when snowfall is somewhere south of 80% relative to average, and January has multiple warm storms, that steep, natural terrain in the lower elevations just isn't going to be flawless yet.  We've actually got some nice fluffy upslope snow falling tonight in association with the next winter storm called "Quintus"; we'll have to see how much the mountains can pull of the sky to top off what's out there.