There really wasn't much lead up discussion on the American Weather Forum about the winter storm we've been having in the Northern Greens the past couple of days. That's because, while it looked like the mountains would muster up some snow accumulation, the models hadn't really suggested that we'd be getting TWO FEET of accumulation. But, once the snow levels dropped into the mountains, Mother Nature just continued to drive that moisture into the spine of the Greens, and it kept snowing. It's been snowing continuously now for two straight days.
While our last winter storm (Argos) hit Bolton Valley hard with over two feet of snow, the initial reports from Powderfreak indicated that Mt. Mansfield and Stowe Mountain Resort were really doing well with this one. Stowe had picked up a half foot by Friday morning, and by early this morning Powderfreak was reporting a 16" storm total. And, the snow just wasn't letting up. I had a number of great Bolton Valley ski days last week, and with the way the storm was going it looked like a perfect opportunity to mix things up a bit and head for the slopes of mighty Mt. Mansfield.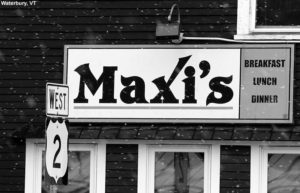 Temperatures were a degree or two above the freezing mark around in the lower mountain valleys at mid-morning when I was heading out today, and the precipitation was all snow, but accumulations were quite variable with the borderline freezing temperatures. We had about an inch on the ground here at the house on the Waterbury/Bolton line, and that tapered off to much more patchy accumulations in Waterbury and Waterbury Center. The accumulations picked back up again once I was into the Stowe Village area, fairly similar to what we had at the house. At The Matterhorn around the 1,000' mark I'd say the snow depth was roughly 2 inches.
"…and then there was that snow. There's so… much… snow. Oh man, talk about a thorough resurfacing."
Just making that jump up to ~1,500' at the base of the resort resulted in a huge increase in accumulations. My depth checks revealed ~10" of new snow at the base of the Gondola, and that measurement was fairly easy, since the old base had generally melted out down at that elevation. I skinned up Chin Clip Runout, since I like the grade, seclusion, and protection from any wind more than heading right up Gondolier. Actually though, winds today were pretty minimal in the lower mountain elevations, and with the temperature just a bit below freezing, it was really pleasant.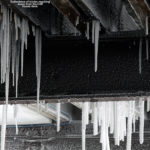 Above mid mountain I started to get into the snow guns, and I meandered here and there from Switchback to Gondolier to Perry Merrill following various skin tracks to see if there were any quiet areas. But aside from Chin Clip, they had guns running all over the place. It's noisy and ruins the natural snow in spots, but of course the resort has to blow snow when it's time. I actually only headed above the 3,000' mark for the exercise and to see what was up at that elevation, because I knew the skiing was going to be much better below that point. The winds were howling on that last section of Upper Gondolier, and pounding snow from the storm combined with snow guns every 50 feet or so blasting out their little ice particles made it a virtual whiteout. It was absolutely miserable. If you've ever wondered why people are willing to pay a premium for really high quality alpine/backcountry/ski outerwear, there's an example. It's not as if it was even midwinter cold (somewhere in the 20s F), but with the snow guns added in, there was just so much liquid being blasted at you on the strong winds. Gear was thoroughly put to the test today. The skin track from the guy who was just a few minutes in front of me had absolutely vanished in that short amount of time. All I could think as I struggled up that final pitch was that if I was ever going to Tweet something at that point it would have been #itsbrutaloutthere. It was a major relief to be able to get out of the wind, snow, and the roar of the guns under the deck of the Cliff House.
Above the base elevations where the old snowpack had melted out, I did my best to try to measure on top of the old base snow/crust, and here's the summary of my best estimates for settled accumulations from this event from the valley and up into the Gondi area below The Chin:
1,000': 2"
1,500': 10"
2,000': 14"
2,500': 17"
3,000': 20"
3,600': 20"+
That last number there from the Cliff House is just an estimate because as is often the case, the wind made it really tough to find a representative spot for measurement.
"The turns certainly weren't bubbly champagne today of course, but they were like being out in one of those freshly-fallen Sierra storms without any excess moisture in the snow, where the flakes are just small and the accumulations are dense, but the powder is great."
Anyway, as much as that last, wind-exposed stretch of Upper Gondolier was brutal on the ascent, the skiing was actually fine. But, just below that on Chin Clip was heavenly. The air was calm, the noise of the snow guns was gone, the plentiful flakes falling form the sky were friendly… and then there was that snow. There's so… much… snow. Oh man, talk about a thorough resurfacing. I actually felt bad on the ascent for anyone that wasn't skinning up because if you were trying to boot pack through this storm's bounty, you were doing a lot of work. There's no walking though airy dendrites out there right now, this is hard-workin', blue-collar stuff that's just been put down. Powderfreak is estimating this storm's likely going to leave a couple inches of liquid equivalent all together. That's a season starter right there. On my ascent I'd chatted with another guy near the bottom on Chin Clip Runout who was just coming down, and he said he never touched a thing below the snow… and he wasn't kidding. On 115 mm boards I'd say I was sinking in about 8 to 10 inches on hard pressured turns on steep terrain. So you can imagine up high where there's 20 inches of new stuff plus an old base below that, you aren't touching anything. Even back down near the base elevations though, where the snowpack was dropping below a foot, there were no issues. The turns certainly weren't bubbly champagne today of course, but they were like being out in one of those freshly-fallen Sierra storms without any excess moisture in the snow, where the flakes are just small and the accumulations are dense, but the powder is great. I actually found a bit of upside-down snow at times on my descent, no doubt due to some changing densities throughout the storm, but even for Tele turns it wasn't too notable within the scope of the overall snow that was available.
On the way back down into the valley on my drive home, I'd say that in general a bit more snow had accumulated during the morning/midday, but you could tell that the snow was struggling to accumulate too quickly with temperatures right around or slightly above the freezing mark. Surprisingly, back in Waterbury Center and Waterbury, there were very sparse accumulations if any, but then accumulations picked back up again once I head toward the house and into the mountains.
The weather pattern is actually looking active and potentially snowy going forward, so we'll see what Mother Nature wants to give us. It would be really nice to get in even an average December after the past three running in the range of 50% of normal snowfall. Even normal would feel quite snowy with the way things have been the past few seasons.