We've got another late winter storm taking place in the area, with fairly high snow levels up around 2,000'. As of this morning, the Bolton Valley live webcams were suggesting new accumulations of an inch or two at 2,100', and perhaps a couple more at 3,150'. The Vista Summit new snow depths were hard to judge though, and it was still snowing, so I planned to head up in the afternoon to check out the scene and get some exercise of my schedule allowed for it.
Although I haven't seen it being an issue at Bolton Valley, we've purposefully stayed off the mountain for the past couple of weeks as we learned that the local ski resorts have asked people to refrain from touring because of potential crowding at base areas. As of today though, with the strong positive strides Vermont has made in limiting the spread of the COVID-19 coronavirus through its social distancing, Governor Scott took another notable step in relaxing the restrictions. The new order states that, "Expanding on Addendum 10, outdoor businesses, construction operations and recreation maintenance work may operate with a maximum of five total workers per location. (Effective April 27). It's only outdoor work that is being phased in at this point, but that makes sense to ramp that activity up first where people are not in the close confines of interior spaces. With respect to the pandemic, we've been fairly lucky here in Vermont with our small total population, and relatively low population density, so the spread of the virus appears to be on the decline locally. Modeling was already reflecting the positive trends here as of 10 days ago, with Vermont being one of only four states that could potentially begin loosening social distancing measures as early as May 4th.
"…the snow depths increased dramatically as I headed up above the base elevations."
From down here in this part of the Winooski Valley, even this morning at the coldest part of the day, you wouldn't know that there was a solid amount of snow falling with this storm if it weren't for some of the resources like Bolton's webcams. I don't think I've seen a flake here at 500', and even our local hills surrounding the valley that top out around 2,000', don't have signs of white on them.
Seeing what was on the webcams though, it was obvious that snow was falling and accumulating at least down to the elevation of the Bolton Valley Village. My trip up the Bolton Valley access road allowed me to get a sense for what was going on with the accumulations. I knew the snow line had to be way up there, but I just kept climbing and climbing, and there were no signs of new snow anywhere. The first signs of old snow from the remaining winter snowpack were around 1,400', but even at the Timberline Base at 1,500', the precipitation was all rain. The rain didn't even change over to snow until about 1,900', just before I reached the Bolton Valley Village. That's also right about where I saw the first accumulations of new snow taking hold. The snow accumulations picked up quickly with 1-2" at the main parking lots at 2,000' and 2-3" at 2,100' near the base of the main lifts.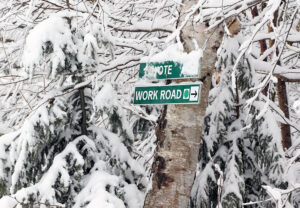 The snow was dense, but not really wet, and the snow depths increased dramatically as I headed up above the base elevations. Thankfully there were some skin tracks to use, because as the depth of new snow surpassed a foot, breaking trail was tough in many areas. The skiing was definitely challenging in the dense snow, akin to the snow from that storm that Erica and I encountered when we skied at Schweitzer Mountain Resort back in 2001. This storm didn't drop four feet of that dense stuff all at once, but I'd brought my mid-fat Telemark skis because I hadn't anticipated the depths I found, and my fat skis would have certainly been the better tool for the conditions. Some of the best turns I had on my mid-fats today were actually in the middle elevations around Five Corners, where the snow depths were still more than plentiful for bottomless turns, but not so deep that they pushed your skis around with strong resistance.
Here's the full accumulations profile for this storm as of ~5:00 P.M. based on what I saw up to the Village and beyond. It gives a pretty good sense for the elevation ranges with the largest jumps in accumulation, but on average it looks like once accumulations took hold, they increased by more than an inch per 100' of elevation gain:
340': 0"
500': 0"
1,000': 0"
1,500': 0"
1,900': 0-1"
2,000': 1-2"
2,100': 2-3"
2,300': 4-5"
2,500': 8-9"
2,750': 11-13"
3,000': 13-14"
3,100': 14-15"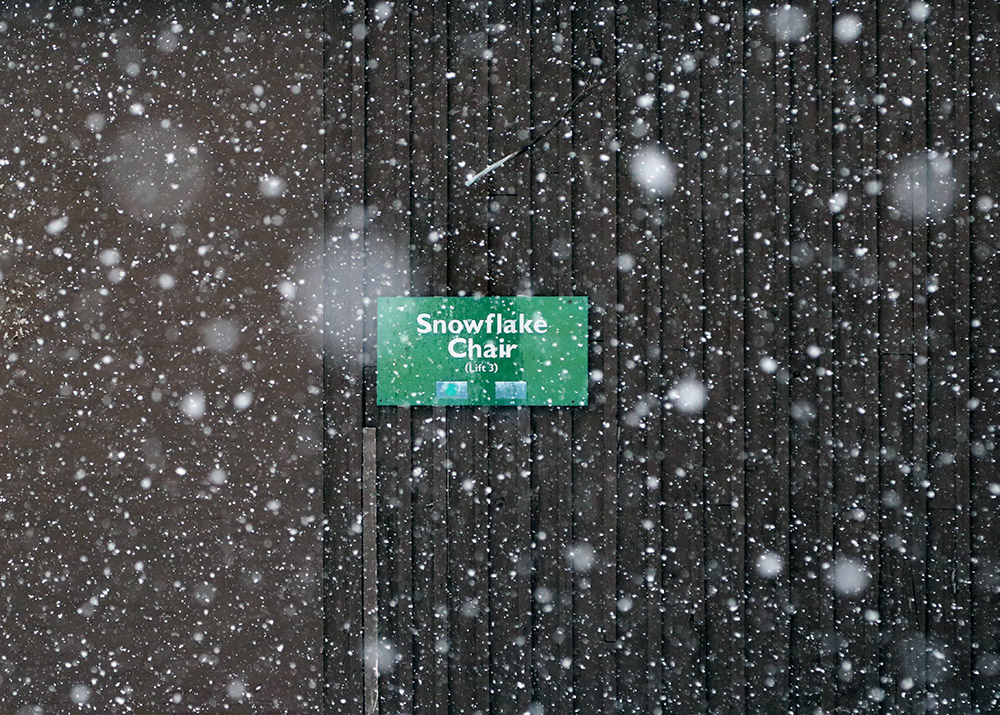 It was still dumping at the base when I left, and the radar has shown continued precipitation tonight, so I wouldn't be surprised at all to see those numbers increase a bit more by tomorrow.