With today's high temperatures expected to be in the single digits F at elevation, touring seemed like the far better ski option, so I paid a visit to the Bolton Valley Nordic & Backcountry Network. Overall ski conditions remain excellent thanks to the 1½ to 2 feet of snow that the local mountains just picked up from Winter Storm Landon, so despite the chilly temperatures, it's time to get out there and make use of that great snow.
Today I toured over in the Holden's Hollow area of the network, approaching from the back side of the ridge using the Telemark trail, and then sampling some descents on both the west and east sides. Today's tour had me in the 2,000' – 2,500' elevation band, and I'd say total snowpack depths at those elevations are in the 2 to 3 foot range. In terms of surface snow, we've got enough different layers in the snowpack now, and they're blending together enough, that it's getting a bit tricky to actually decide what constitutes surface and subsurface snow/base. If you're very delicate with your measuring, you can find a bit of a dense layer about 16 inches down. I think it's safe to say that top section of the snowpack is the settled powder from Winter Storm Landon. The dense layer below that is presumably some denser precipitation, perhaps from the start of the storm when temperatures were coming down and there was a mix of rain and snow. Based on Powderfreak's observations from Thursday, it doesn't sound like there was too much rain at elevation, and since that layer is rather subtle, that would argue for that and/or a very good transition/blending with the drier snow above.
Past that denser band, you're into another 6 to 8 inches of powder before you hit something more solid that can really serve as a potential base. That's typically where I'd find that my poles could finally gain purchase, and it sounds like that's similar over at Bretton Woods based on Alex's comment yesterday here in the thread. Having backcountry baskets would probably help a little bit in that regard.
There are a couple of other dense bands down in the snow there that I could detect when probing carefully, but I'd say the solid base is down there in the 22 to 24-inch range for those low to mid elevations, and I've got an image of my pole hitting that approximate depth with this report. So if you're first on an ascent and breaking in the skin track, plan on a good workout. Thankfully, most of the route for my tour had seen some previous traffic, and I only had to break one section with perhaps 100' of vertical, but it was a good deal of extra work.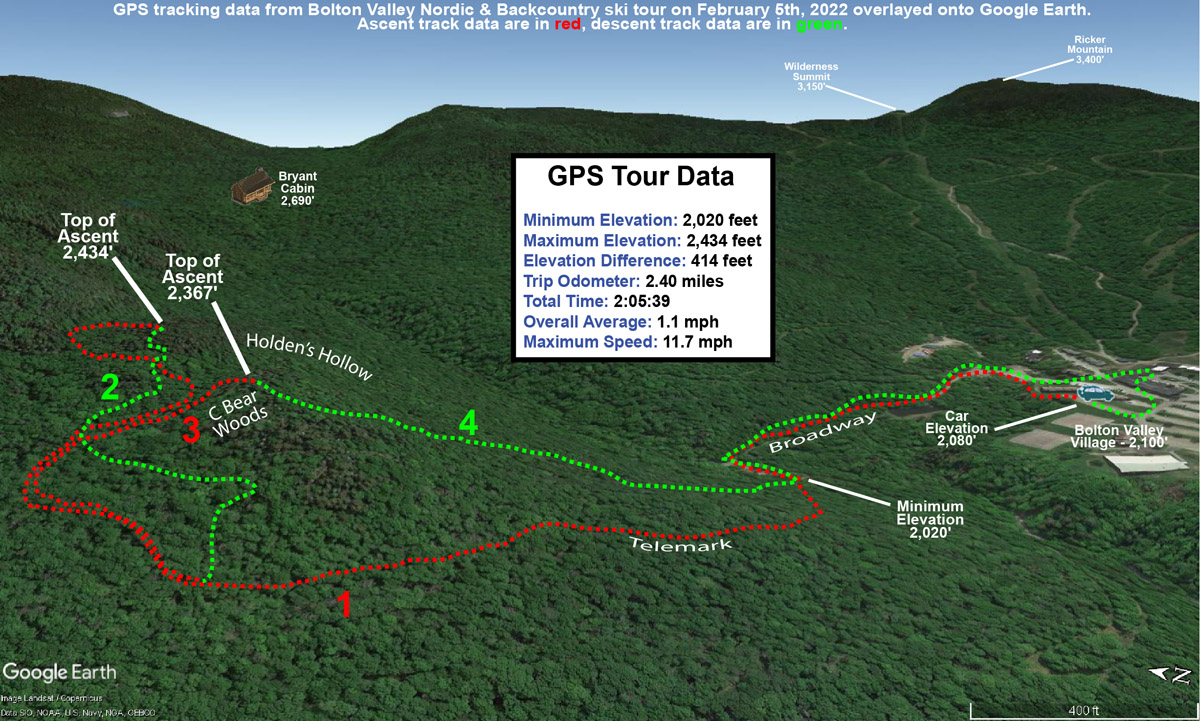 Right now in terms of the backcountry skiing around here, I'd argue that you really need black pitches or greater to have a reasonable descent without getting too bogged down or simply having to straight-line it too much. I was on 115 mm skis that I'd just waxed, and I still had to seek out those pitches if the snow was untracked. As long as you get the right pitch though, the powder skiing is excellent as one would imagine.