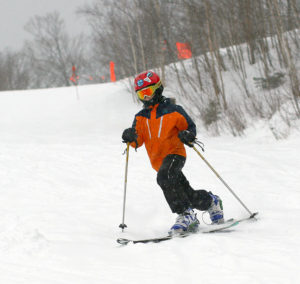 Snow from our incoming winter storm began in the area this morning, and maintained a steady light intensity through our arrival at Stowe a bit before noontime. After the family had some lunch at the Great Room Grill, everyone gathered up for the afternoon's sessions. With the past couple of week's program sessions having rather stale snow, there was a bit of a buzz in the air with the incoming storm, even if new snow accumulations were still on the minimal side at that point.
Molly was continuing with her snowboarding, so Ty snowboarded as well, while Dylan and I went with Telemark skis. E feels that Molly is progressing really well with her turns, and just needs time on snow, so that's exactly what we gave her. We did several runs off the Meadows Chair, which provided Molly with great terrain for her boarding, and it was an excellent area for Dylan's Telemark practice as well. I drilled him using a technique that he actually invented, which involves skiing all turns in both directions in the same Telemark stance. In this case I made him work on his weaker stance, which is left foot in the back.
We had a good hot chocolate break back in the Great Room Grill before finishing off with a couple of bigger runs off of Sunny Spruce. The snow continued to fall lightly, but ended up adding a couple inches to freshen up surfaces before we left. We only took the occasional quick jaunt into the off piste, but it skied quite nicely with about 6 inches of powder, even down near the base elevations. The snow's been chugging right along this evening at a slightly invigorated pace, so tomorrow should be another excellent day for turns.