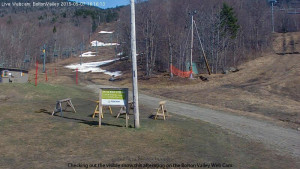 Our protracted stretch of pleasantly warm and sunny weather has continued this week, and it's allowed the ground to dry to the point that on Tuesday, I headed out for a mountain bike ride to sample some of local terrain by the house and into town. Indeed even some of the typically wettest terrain down by the Winooski was dry enough for riding, so things are ready on that front, but after seeing Powderfreak's ski report from yesterday at Stowe, it reminded me that I should probably get back out on the slopes while the snow is available. I can still see bright areas of white snow on the slopes of Bolton Valley from my office in Burlington, but from that distance it's hard to know exactly how continuous the coverage is. I popped up the image from the Bolton Valley Web Cam and could see that there were only patches of coverage on Beech Seal on the bottom half of the mountain, but it looked as if the snow at the bottom of Bear Run might be stretching upward for some substantial coverage.
I headed up to the resort with plans to at least get in a hike, since the areas without snow already looked pretty dry. I saw the first signs of snow along the Bolton Valley Access Road at the base of Timberline at 1,500', and it was clearly leftovers of manmade snow. Up in the Village it was very quiet, and I'd thought about getting a sandwich from the Deli, but it was closed. This is probably one of the quietest times of the year, so I guess that shouldn't be too surprising. I took a quick walk up to the slopes and could see that Spillway had some large areas of snow, and it was enough to suggest that I should throw my skis on my pack and bring them along.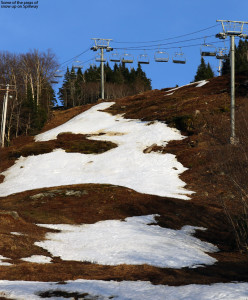 The visible snow near the base that appeared to head up to Bear Run was the start of a reasonably long section that went about halfway up the trail, and from there to Mid Mountain the coverage was a lot more fractured or nonexistent. Above Mid Mountain I began to hike toward Spillway, since I'd seen the snow up there, but once I saw far more substantial coverage on Sherman's Pass, I switched my route in that direction. I stopped my ascent at around 2,600' near the top of the steeper Sherman's Pass terrain above Mid Mountain, since there was another gap in coverage at that point.
For the descent, I found that the snow definitely had some sun cups and dirty areas, but there were a variety of areas with decent turns, and the coverage there basically brought me down to Mid Mountain before I took off my skis to connect to the lower half of Bear Run. That bottom part of Bear Run offered the longest stretch of continuous snow, and it carried me to within about 50 yards of the base lodge. With Bolton's western exposure and more limited snowmaking than some of the larger resorts, May turns are often spotty, and this year was fairly typical in that regard. Based on what I saw, today's turns were likely my last of the season at Bolton Valley, so that's probably it until the fall. There's a ton of snow left at Stowe and some of the other resorts around, so hopefully I can get out to some of those spots for more turns this month.