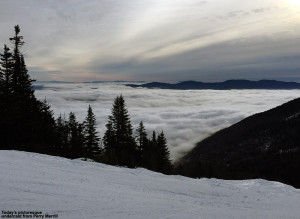 Today's first run on Stowe's Perry Merrill had our training group thinking of old adages such as "Life's too short to ski bad snow.", or perhaps "Any day at work is better than the worst days of skiing." Yesterday featured very spring-like temperatures, and this morning's cold weather and undercast left the snow on Mansfield locked up like one of those ice blocks on the cooling unit of a mini fridge. All of us questioned why anyone would pay for such conditions, but people were out there, and along with race training groups and other school ski program training groups such as ours it made for an incredibly crowded trail. What we had was essentially a perfect combination of dangerous snow and tons of skiers in the same place; it's exactly where you wouldn't want to be. We were all amazed when about 100 vertical feet above the Midway Lodge, the snow suddenly softened into something reasonable. Everyone exchanged thoughts of joy as they were actually able to carve turns; apparently we'd hit the freezing line.
Fortunately our instructor Steve knew that there was no point in going back up the Gondola, and instead led us over to Spruce Peak. The sunny slopes of lower Spruce were soft and good to go, and all of us were more than happy to stay over there and work through the progression of techniques for beginning skiers. As the low clouds broke away and the sun hit in the second half of the morning, it became a beautiful day to be out on the slopes. Spruce softened up to as high as we were skiing, which was up to the top of the Meadows Quad. I suspect that even the Mansfield side softened up, but I'm not sure how high that went since we never headed back over there until we hit the Midway Lodge on our way out.
In any event, good snow and comfortable temperatures made for a great annual training day over at Spruce Peak, and if we hadn't had other things to do in the afternoon, it definitely would have been worth staying for some additional runs. The new construction at the base is certainly coming along, and the outdoor ice rink is already in place. It looks like that area is going to be a great core to the Spruce Peak Village when everything's complete.
One highlight from this morning was the fantastic view of the mountains above the low clouds, which we've apparently been experiencing a lot in the past few weeks with the fairly benign weather pattern. It does look like storms are going to pick up in the second half of the month, but we'll have to see how much cold air they have to work with in terms of creating snow.