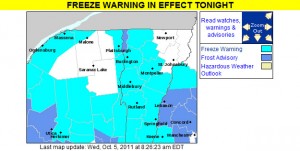 We've got another batch of cold air moving in over the next couple of days, so the National Weather Service Office in Burlington has put up freeze warnings throughout the area.  Temperatures should be colder than last round with most areas in the 20s F, but since we're into October now, that's not all that surprising.  For those areas like the Northeast Kingdom and the Adirondacks that don't have warnings up, it's because they aren't needed; for those colder areas with early dates for typical first frost, the growing season is considered to be over already.  Some of the details from the National Weather Service have been added below:
434 AM EDT WED OCT 5 2011
…FREEZE WARNING IN EFFECT FROM MIDNIGHT TONIGHT TO 8 AM EDT THURSDAY…
THE NATIONAL WEATHER SERVICE IN BURLINGTON HAS ISSUED A FREEZE WARNING…WHICH IS IN EFFECT FROM MIDNIGHT TONIGHT TO 8 AM EDT THURSDAY.
* LOCATIONS…ALL OF VERMONT…EXCEPT CALEDONIA…ESSEX…GRAND ISLE AND ORLEANS COUNTIES. THE SAINT LAWRENCE VALLEY IN NORTHERN NEW YORK.
* HAZARDS…WIDESPREAD FROST AND BELOW FREEZING TEMPERATURES.
* TEMPERATURES…MAINLY IN THE MID TO UPPER 20S.
* TIMING…FROM AROUND MIDNIGHT TONIGHT THROUGH 8 AM EDT THURSDAY.
* IMPACTS…WIDESPREAD FREEZING TEMPERATURES WILL BRING AN END TO THE GROWING SEASON FOR ANY UNPROTECTED PLANTS OR VEGETATION.