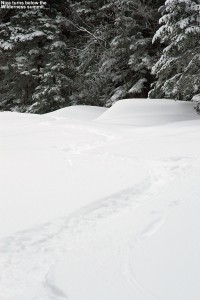 I saw a couple of new offerings mentioned on the Bolton Valley website this morning as they continue to expand their terrain – the opening of the Snowflake Lift and the Hard Luck trail.  Ty was away at Kenny's, and E and Dylan had to take care of some shopping for an upcoming birthday party, but eager to check out the expanded terrain, I decided to head up to the hill in the afternoon.
We're experiencing warmer temperatures right now ahead of the next incoming storm, so it's been quite comfortable out there.  It was around 30 F at the house when I left at noontime, and mid 20s F up on the hill.  It was cloudy, but unlike the persistent snowfall of yesterday, there was only the occasional spit of snow in the higher elevations.  Like yesterday, I was able to grab a parking spot in the top lot from a car that was leaving, and after getting on my gear I headed right over to catch a ride on Snowflake.  While on the lift I was able to watch a snowcat working on the Butterscotch Terrain Park – all the snow piles were being flattened, and they play to open it tomorrow for skiing without features.  Only Timberline Lane and Lower Villager are open on the skier's left of Snowflake, so I opted for Sprig O' Pine to get me down to the Vista Quad.  The snow on Sprig O' Pine was nice, not as soft as natural snow of course, but good because traffic has been minimal there.  I took the alternate loop out toward Deer Run, which did have natural snow – that was really soft, and as it's a protected area there were some beautiful accumulations of snow on the trees.
"Indeed, all of Peggy Dow's
above the first big bend
had plenty of deep snow
and some great powder
turns were made."
There was a lift queue of probably a couple minutes for the Vista Quad, but I jumped in the singles line and got right on.  I found good snow along the skier's left of Spillway Lane, and then dropped into Hard Luck to see how it skied.  It was somewhat firm manmade snow in the top section, although skier traffic had created deposits of soft snow along the edges.  As is sometimes the case with manmade snow, the loose material was a lot like sand, but at least it was soft.  The bottom half of Hard Luck appeared to be mostly natural snow – it was much softer than what was above as one would expect, but some areas of poor coverage has to be roped off.  Below Hard Luck there was actually some nice untracked powder remaining on the skier's left of Sherman's Pass – people just hadn't been venturing that far to the left.  On the lower mountain I skied Beech Seal, which had some excellent areas of soft, contoured snow along the skier's left.  I was eager to hit that again on my next run.
I checked out Alta Vista next, and the line along the skier's left was in good shape.  Had it not been for the occasional touching down onto firmer snow, it would have been great.  Sherman's Pass was in decent shape, with the occasional patch of slick snow that could be avoided, and turns were very nice once I got to that area below Hard Luck and followed the same route down Beech Seal.
I'd explored the offerings that I wanted to hit by that point, and decided that I'd tour over to Wilderness to finish off the day with some powder.  I headed down Alta Vista again, really happy with the way I hit that skier's left with some aggressive turns.  My legs felt warmed up and stronger by that point.  On my previous run I'd seen that all the lower routes over to Wilderness were roped off, so the Upper Crossover route was the best remaining option.  I knew that anything steep was going to be too much for the current conditions, but I suspected that Peggy Dow's would be passable, even if I found nothing good above the Old Turnpike area.  I caught the bottom portion of Vista Glades, then connected onto Upper Crossover to switch over for the ascent.  While putting on my skins, I had time to enjoy the snowy views, which included evergreens that were really starting to take on some healthy accumulations of powder.  On the ascent toward the Wilderness Summit, I generally found snow depths of 6 to 11 inches in spots that weren't scoured by the wind, so there were indeed some good pockets of snow up there.
Despite intense scouring at the top of Bolton Outlaw, the Wilderness Summit itself was sheltered from the wind and had some nice snow.  Indeed, all of Peggy Dow's above the first big bend had plenty of deep snow and some great powder turns were made.  Once I neared the junction with Heavenly Highway I initially went wide right to avoid the icy, wind-scoured face, but I saw that another skier had taken the chute that bypasses it on the left.  That area was protected from the wind, so I followed that skier's tracks and found reasonable coverage.  Down on Old Turnpike the first couple of steep corners were naturally icy, but there were lines to bypass the most exposed spots, and soon I was down into the protected lower areas that we skied yesterday.  I actually used the same route as we did yesterday, until I decided to mix it up and check out the Wilderness Lift Line instead of Lower Turnpike.  The lift line was actually fine, even if didn't quite have the protected coverage of Lower Turnpike, and there were several tracks on it.  From the base of Wilderness, I headed back to the car and had time to do a little long-range shooting with Chris' Canon EF 70-200mm f/2.8L IS II USM paired with his Canon Extender EF 1.4 III.  That's a full frame equivalent to 448 mm on my 30D, so there's some great reach with that combo, and you've still got f/4 speed.  It's certainly not a setup that you can carry lightly though; with the lens hood on it's 15 inches in length and the weight is around 6 pounds, so you definitely know it's there.
Looking ahead, the next winter storm of note is a coastal system that is expected to affect the area tomorrow afternoon into Monday.  The valleys will probably be a bit warm at the start, but the mountains look to do well; the point forecasts from the National Weather Service Office in Burlington currently call for 3 to 5 inches down here at the house, and 3 to 7 inches up at Bolton Valley.