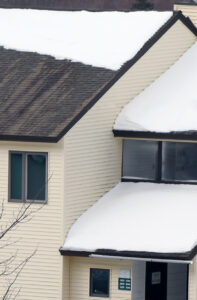 Erica and I headed up to Bolton Valley this morning to potentially get in a bit more powder skiing ahead of today's warming temperatures. The real warmth wasn't expected to come into the area until later in the day today, but it was already above freezing at the base elevations when we began our tour around 9:00 A.M. or so.
The Wilderness skin track was in great shape, but the snow on Lower Turnpike definitely looked like it had been worked in a bit more compared to what I saw on yesterday's tour. There were more people out touring in the area today, and we figured it was because so many more people had time off for Christmas Eve.
My initial plan was to tour up to near 3,000' and get into some powder like yesterday, but E was looking for a shorter tour than that, and once we discovered that the powder was already getting somewhat wet, we just toured up to below the Cougar headwall as our apex.
Turns on the packed areas of Lower Turnpike were quite good, with just a touch of stickiness in spots. I occasionally checked out the powder along the sides of the trail, but it was starting to get wet enough that the packed areas were generally the better experience. Had I known that the rising temperatures had already affected the powder, I probably would have just brought midfats instead of my fat Tele skis.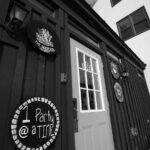 We headed back to the car through the Village Circle, and were reminded again about the Mad Taco outpost right in the Village. We're definitely going to have to take advantage of the opportunity to get some of their food from the Bolton site – that's the closest Mad Taco branch for us.
Our area is going to be in the warm sector for much of the next storm coming into the area today, but we've got more chances for snow during the holiday week.